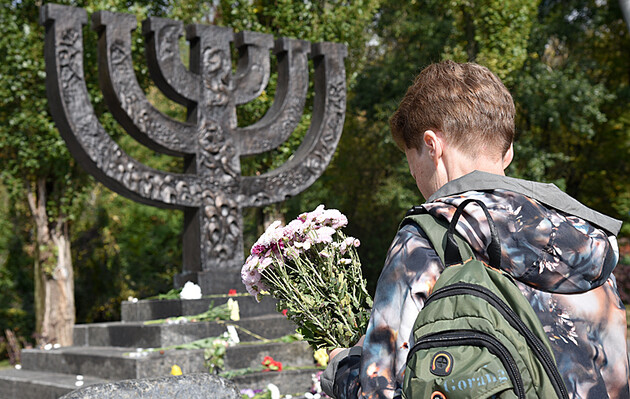 Russia announced on March 1 that it intends to host an international "Anti-Fascist Conference"—with hideous irony, on the same day its forces bombarded a Holocaust memorial site in Kyiv. Russia struck the Babi Yar Holocaust Memorial in a raid apparently targeting a nearby TV tower, killing five people. The memorial marks the site of the murder of 33,771 Jews by the Nazis in one of the most heinous acts of World War II. Volodymyr Zelensky, Ukraine's first Jewish president, last year attended a ceremony for the opening of a synagogue at the site. He responded to the missile attack on the monument by tweeting: "To the world: what is the point of saying «never again» for 80 years, if the world stays silent when a bomb drops on the same site of Babyn Yar? …History repeating…"
The surreal announcement came from Russian Defense Minister Sergei Shoigu, who said Moscow will hold the "Anti-Fascist Conference" in August, in conjunction with an arms expo sponsored by his ministry, dubbed the Army-2022 International Military-Technical Forum. Shoigu said the conference aims to "unite the efforts of the international community in the fight against the ideology of Nazism and neo-Nazism in any form of its expression in the modern world."
Among the countries invited to the confab are China (accused of genocide in Xinjiang), India (now emulating China's mass detention policies), Pakistan (a fast-consolidating police state), Saudi Arabia (similarly moving toward a mass detention state), the UAE (a burgeoning police state), Azerbaijan (accused of war crimes in last year's war with Armenia), Uzbekistan (a long-entrenched dictatorship), and Ethiopia (accused of crimes against humanity in the Tigray war).
Announcement of the "Anti-Fascist Conference" has received limited coverage in English. Those that have reported it include (with harsh criticism) pro-democracy platform The New Arab, (with open approval) right-wing mouthpiece Breitbart, and (with no spin) generic news portals Zoma, The News 24 and GWN. Most accounts cite Russian state media outlet RT, where news of the announcement only appears in Russian.
Russian President Vladimir Putin, who in launching his invasion made the absurd claim that his war aim is to "denazify" Ukraine, is of course now accused of horrific war crimes. Nor only in his new war on Ukraine, but going all the way back to his 1999 war on Chechnya, launched just as he was first taking power, his 2008 war in Georgia, and his ongoing bombardment of Syria.
Not to mention the totalizing police state now unfolding within Russia. Moscow's communications regulator Roskomnadzor (RKN) on Feb. 28 blocked access to more than six different media outlets, including Russian investigative outlet The New Times, and dissident student newspaper Doxa.
At least five journalists are facing charges and dozens more have been detained across Russia following their coverage of anti-war protests, which have sprung up across the country since Putin launched his invasion of Ukraine on Feb. 24. RKN has ordered that media organizations only publish official government reports about the war in Ukraine—which do not even call it a "war" or "invasion," but only a "military operation." If outlets fail to comply, RKN has threatened to block their websites. (CEPA, CPJ)
This "Anti-Fascist Conference" is yet another manifestation of the ultra-cynical propaganda stratagem of fascist pseudo-anti-fascism. Do not fall for it.
Photo of Babi Yar memorial in Kyiv via Kharkiv Human Rights Protection Group