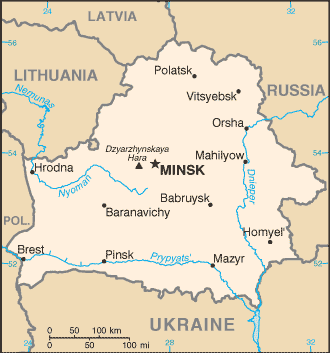 Belarus on Feb. 28 voted in a referendum to approve constitutional changes that include dropping the country's nuclear-free status. On the eve of the vote, President Alexander Lukashenko expressed his willingness to redeploy nuclear arms in the country's territory, saying: "If [the West] transfers nuclear weapons to Poland or Lithuania, to our borders, then I will turn to [Vladimir] Putin to bring back the nuclear weapons that I gave away without any conditions."
After the break-up of the Soviet Union in 1991, Belarus ceded the nuclear weapons deployed on its territory to Russia, and the Belarusian constitution declared that the country would remain a "nuclear-free zone." This clause has now been expunged from the document.
The constitutional changes also further consolidate the power of Lukashenko, who has ruled the country since 1994. The amendments strengthen the All-Belarusian People's Assembly, an appointed body of industry leaders and government officials. Under the changes, the assembly is to become the "highest representative body of democracy," with the power to elect and dismiss judges, and acquires parliament's authority to impeach the president.
The country's central elections commission said that 65.2% of those who took part in the referendum voted in favor of the constitutional changes. Western governments have already stated they will not recognize the results of the referendum, which came amid a continued crackdown on opposition in Belarus.
The vote actually coincided with the first outbursts of street protests in Belarus since the wave of repression that put down the mass demonstrations following the evidently fraudulent elections on August 2020. As the referendum results came in, some 800 people were arrested in unpermitted protests across Belarus against the Russian invasion of Ukraine. Russian anti-war protesters have also faced repression and mass arrests in recent days.
In response to the new outbreak of protest, Belarus' exiled opposition leader Sviatlana Tsikhanouskaya stated from Lithuania: "I'm so proud that Belarusian people—despite two years of repressions—managed to go out onto the streets…to show our support for the Ukrainian people." (Euronews, Euronews, Al Jazeera, CEPA)
Russian President Putin ordered his nuclear forces on high alert after the Ukraine invasion was initiated last week. Russian nuclear submarines are currently carrying out drills in the Barents Sea, while mobile missile launchers are conducting exercises in Siberia. (AP)
Map via PCL Map Collection