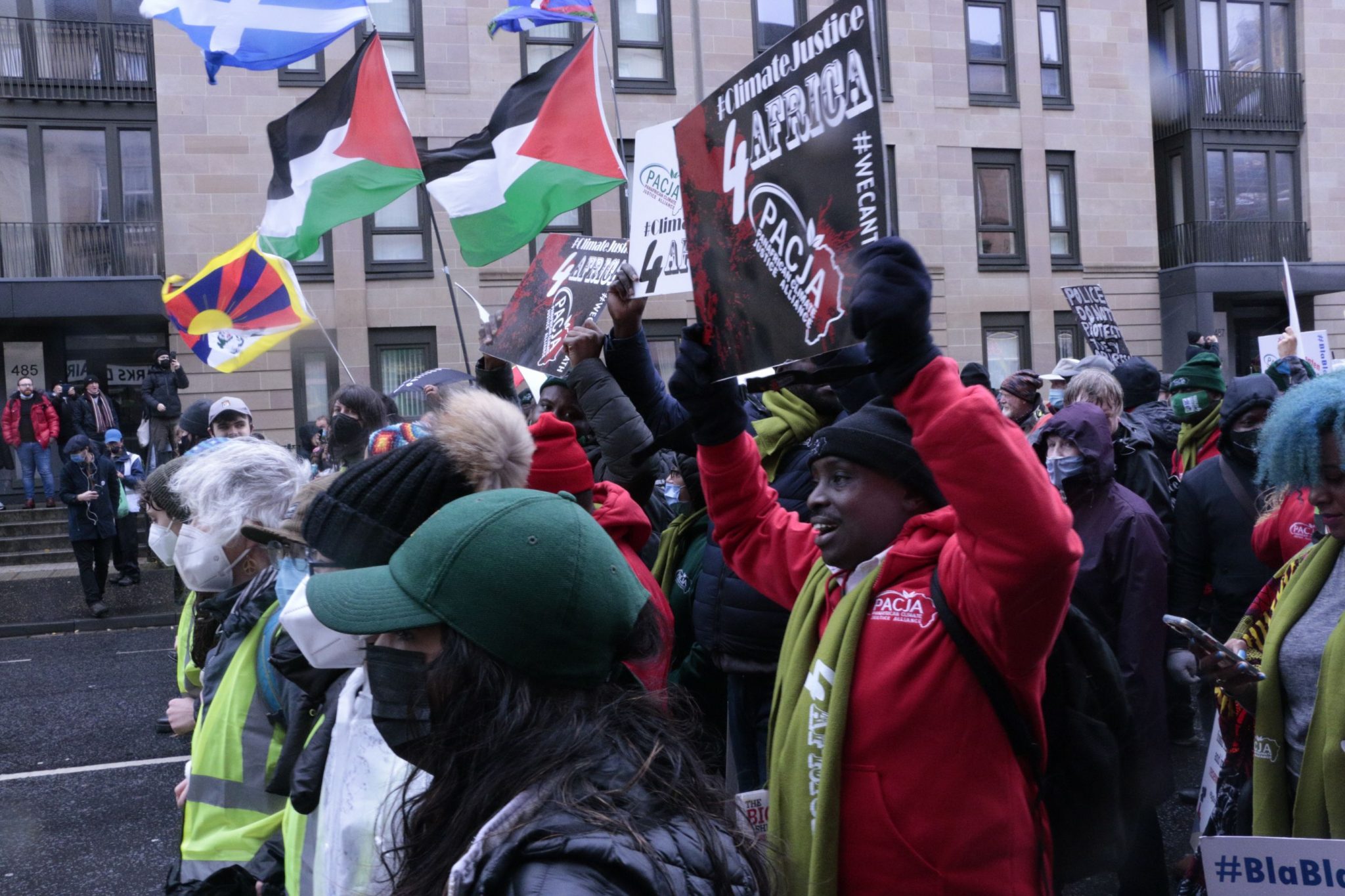 Thousands marched in Glasgow as the COP26 climate summit entered its second week Nov. 6, demanding ambitious and concrete proposals on limiting global warning to 1.5° Celsius above pre-industrial levels—the lowest target under the 2015 Paris Agreement. Police arrested 21 people, including members of the Scientist Rebellion movement who had chained themselves to the King George V Bridge over the River Clyde in Glasgow's city center. A UN Climate Change Update on Nationally Determined Contributions issued two days earlier found that even with the new pledges made thus far at COP26, emissions are still set to rise 13.7% by 2030. To be compliant with the 1.5C goal, they must fall 45% by that year.
On Nov. 5, young Swedish activist Greta Thunberg's group Fridays for Future held a large demonstration outside the summit venue. From the stage, Thunberg dismissed the summit as a "Global North greenwash festival" and "a two-week long celebration of business as usual." She stated: "Many are starting to ask themselves, what will it take for the people in power to wake up? But let's be clear: they are already wake. They know exactly what they are doing. The leaders are not doing nothing. They are actively creating loopholes—to benefit themselves."
Much activist ire is focused on the notion of "Net Zero" carbon emissions—the idea that emissions can be effectively cancelled out by "offsets."
In a new report, "Net Zero: The Big Con," Boston-based organization Corporate Accountability presents "clear evidence that 'net zero' climate plans are simply the latest attempt by polluting industries, and the neoliberal governments doing their bidding, to escape responsibility to act to address climate change… Their proposed plans could even worsen the climate crisis." (Environment News Service, AFP, PhysOrg)
COP26 got off to an inauspicious start, with the leaders of Russia and China failing to even attend—leading former US president Barack Obama in his address at Glasgow to assail them for their "dangerous lack of urgency." (Al Jazeera) Over the past week, a handful of new agreements have emerged.
The US and the EU announced a Global Methane Pledge aimed at limiting methane emissions to 30% by 2030, compared with 2020 levels. (BBC News)
More than 40 countries signed on to a Global Coal to Clean Power Transition statement, aiming to phase out coal burning by 2030. Major coal-using countries such Poland, Ukraine, Vietnam and Chile are among those to sign on. But several of the biggest coal consumers are absent from the accord, including China and India, which together burn roughly two-thirds of the world's coal, as well as Australia, a major consumer and exporter. (BBC News, NYT) Ahead of the conference, Australia issued a plan for reaching "net zero" emissions by 2050—but the plan calls for actually continuing coal mining and exports. (BBC News)
More than 120 countries signed on to a Declaration on Forests and Land Use, committing to halt and reverse deforestation by 2030. (SciDevNet) Among the signatories are Brazil and the Democratic Republic of Congo—both now facing major crises of mass deforestation. But just last month, DR Congo officially finalized plans first announced three years ago to open its rainforest to oil and logging interests. (PRI)
The global private sector has also been a significant presence at Glasgow. A coalition of the world's biggest investors, banks and insurers that together control a total of $130 trillion committed themselves to financing projects aimed at helping countries and corporations achieve "net-zero" emissions by 2050. The group, the Glasgow Financial Alliance for Net Zero, is made up of 450 banks, insurers and asset managers in 45 countries. (NYT)
There are also apparently more delegates at COP26 associated with the fossil fuel industry than from any single national government. Campaigners at Global Witness issued a report assessing the participant list published by the UN at the start of the summit. They found that 503 individuals with links to fossil fuel interests had been accredited for COP26.
The report called for barring such voices from the summit. "The fossil fuel industry has spent decades denying and delaying real action on the climate crisis," said Murray Worthy of Global Witness. "Their influence is one of the biggest reasons why 25 years of UN climate talks have not led to real cuts in global emissions." (BBC News)