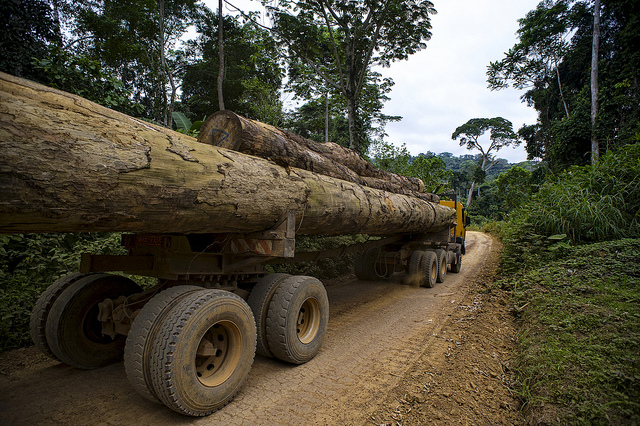 Concern is mounting for the Democratic Republic of Congo's vast forests and rich wildlife as logging concessions and licenses to explore for oil in protected areas are prepared ahead of presidential elections later this year. A moratorium on industrial logging, in place since 2002, has been broken with three concessions reportedly handed out by the DRC environment ministry to Chinese-owned logging companies since February. A further 14 logging concessions are expected to be granted within months, according to Unearthed, the Greenpeace investigative unit. In addition, reports referenced by Greenpeace indicate the government is preparing to reclassify large areas inside Salonga and Virunga national parks, both of which are UNESCO World Heritage sites.
The DRC holds 60% of the world's second largest rainforest and critics say plans to further exploit it severely undermine the Central African Forest Initiative (CAFI), a multi-million dollar development and conservation project, established by the Norwegian government with international support in 2015. Two of the three logging concessions awarded in February are in the Cuvette Centrale region of DRC, a highly sensitive ecological area that includes what is believed to be the world's biggest tropical peatland, estimated to store over 30 billion metric tons of carbon.
One of the oil concessions, allocated to Compagnie Minières Congolaise (Comico), encroaches on Salonga National Park, Africa's largest tropical rainforest reserve. The pristine rainforest is home to bonobos, forest elephants and Congo peafowl. The other, in Virunga National Park in eastern Congo, is home to critically endangered mountain gorillas—and is already threatened by enroachment of armed groups and poachers. British oil company SOCO International carried out seismic testing before letting its license lapse in 2015 following an outcry by conservationists.
Unrest is growing in DRC ahead of the delayed presidential election to choose a successor to Joseph Kabila, who has governed since 2001 and is not allowed to continue in the role. But Kabila has so far refused to commit to standing down, sparking protests. In March, the bodies of two UN investigators and 40 decapitated police officers were found in the central province of Kasai, a stronghold of opponents to Kabila which is seeking regional autonomy. The violence was part of a new conflict in the region that has reportedly seen over a million people displaced. (Mongabay, July 19)
Photo via Global Forest Watch