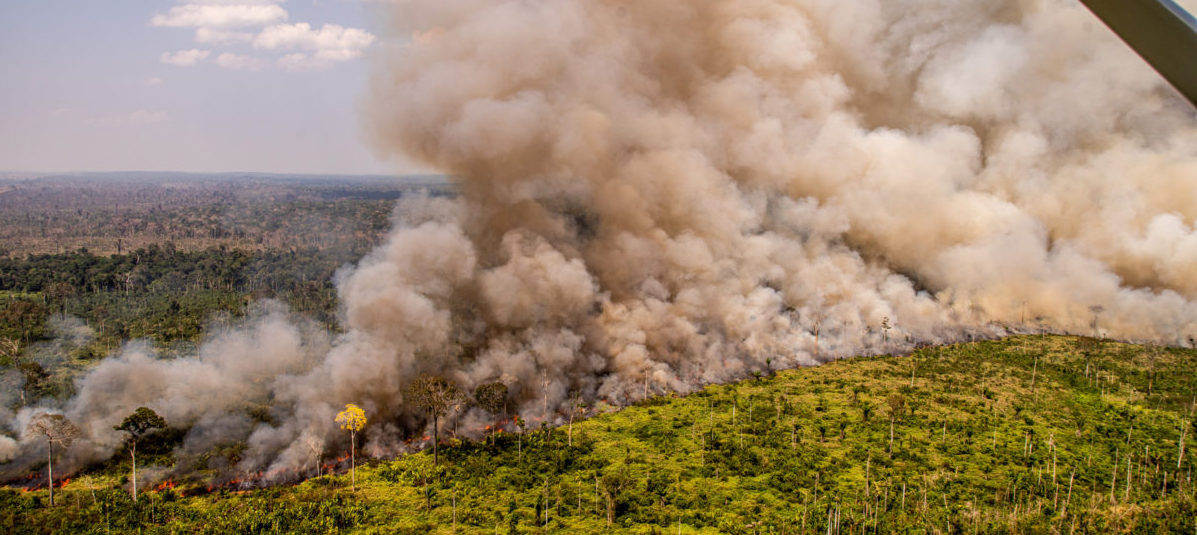 The Amazon has long played a vital role in balancing the global carbon budget, but new evidence suggests the climate scales are tipping in the world's largest rainforest. Now, according to a study published July 14 in Nature, the Brazilian Amazon is emitting more carbon than it captures. Southeastern Amazonia, in particular, switched from being a carbon sink to a carbon source during the study period. Emissions were high in 2010, when the study began, because of a dry El Niño year, and researchers expected to see emissions return to normal afterward. But this never happened. The reason: emissions from fires.
In the Amazon, forests are often cut during the wet season and then burned during the dry season to make way for agriculture, particularly cattle pasture. According to the study, emissions from fires in the southeastern Amazon are three times larger than the Net Biome Exchange (NBE; also rendered Net Ecosystem Exchange, NEE), a measure of the forest's carbon uptake offset against all emissions from decomposition and non-fire human sources such as burning fossil fuels.
"The Amazon is a carbon source. No doubt," Luciana Gatti, a researcher at Brazil's National Institute for Space Research (INPE) and lead author of the study, told Mongabay. "By now we can say that the budget for the Amazon is 0.3 billion tons of carbon per year [released] into the atmosphere. It's a horrible message."
Without emissions from fires, Gatti says, the Amazon would be a carbon sink. "In other words, the Amazon is a source because of biomass burning."
Using a small aircraft, Gatti and colleges measured carbon dioxide, carbon monoxide, and other greenhouse gases above four locations across the Brazilian Amazon. Between 2010 and 2018, they collected air samples seasonally from near the treetops to up to 4,500 meters (14,800 feet) above sea level, creating nearly 600 vertical profiles of atmospheric carbon levels.
Their conclusion: Eastern Amazonia is emitting more carbon than the wetter western Amazonia, and southern Amazonia is a net carbon source.
Deforestation rates have been higher under Brazil's current president, Jair Bolsonaro, than any past president and they show no sign of slowing. In 2020, Brazil lost 158 hectares (390 acres) of forest per hour—an area half the size of New York City's Central Park—according to a report by MapBiomas, a network of NGOs, universities and tech firms that include Google.
In May of this year, forest clearing in the Brazilian Amazon increased 67% over May 2020, according to INPE's satellite-based deforestation tracking system, DETER. This puts deforestation in 2021 on pace with last year's rate.
Decades of deforestation and fires in the Amazon coupled with the global climate crisis have caused the dry season to get longer and made mega droughts more common, contributing to a feedback loop that degrades forests. These degraded conditions mean trees are dying at a faster rate. As more plants and trees die, the Amazon's ability to absorb carbon from the atmosphere is declining.
"If you're thinking a tipping point [for] the Amazon [is when] it becomes a carbon source, this region is at a tipping point," Gatti said. "My question is, if we stop now with fires and deforestation and start the very important repair process for forests, could we reverse the picture? I don't know."
Condensed from Mongabay, July 14
The study vidnicates what scientists have been predicting at least as far back as a decade ago. President Jair Bolsonaro has largely gutted and defunded Brazil's environmental regulatory, protection and enforcement agencies.
Photo via Mongabay