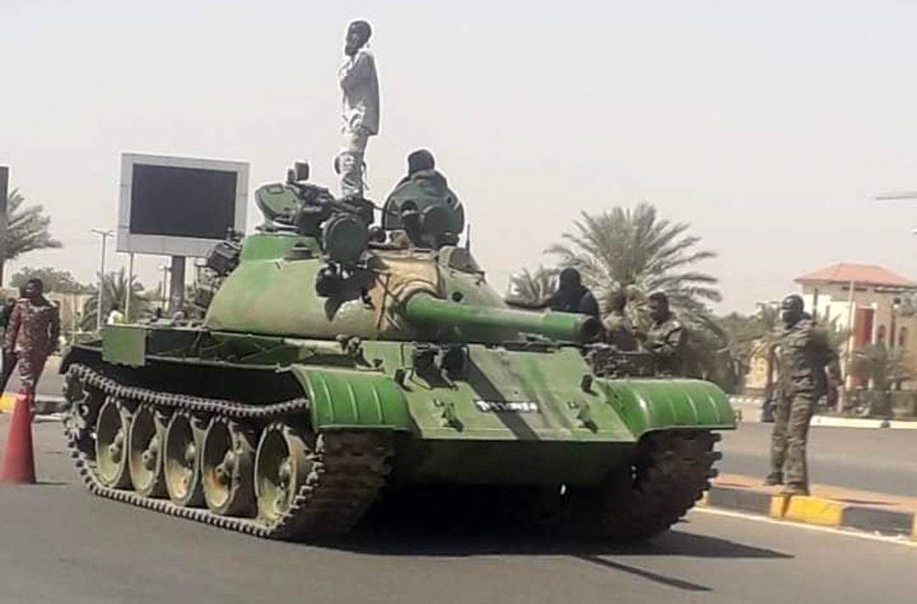 As fighting continues in Sudan, derailing a transition to democratic rule that was slated for this month, commentators are noting Russian connections to the paramilitary Rapid Support Forces (RSF) that sparked the crisis by apparently attempting a coup d'etat on April 15. The Kremlin's notorious mercenary force, the Wagner Group, is said to be engaged in illegal gold mining operations in Darfur and Kordofan regions in collaboration with the RSF. Operations at a mine owned by RSF warlord Mohammed Hamdan Dagolo AKA "Hemeti" in the Nuba Mountains of South Kordofan state have sparked protests by locals over land-grabbing and pollution. The arrangement points to a Kremlin-backed design to make the RSF economically independent of the Sudanese state in preparation for an eventual seizure of power.
The Wagner Group appears to have entered Sudan some years ago at the invitation of long-ruling dictator Omar al-Bashir. As Al Jazeera notes:
The Wagner Group began its deployments in Sudan during the rule of former President Omar al-Bashir, who was forced from power in 2019 during large-scale protests.

Fearing that his rule was shaky, al-Bashir travelled to Russia in 2017 to meet with President Vladimir Putin and pitch Sudan to him as Russia's "gateway to Africa" in return for Russian support. A short time later, Meroe Gold, a new mining company owned by the Russian company M Invest, began bringing Russian experts into Sudan, Africa's third-largest producer of gold.

In 2020, the United States Department of the Treasury sanctioned M Invest and Meroe Gold, saying that its investigations had revealed that M Invest was a cover for the Wagner Group.

The Wagner Group was "primarily aimed at guarding mineral resources, particularly gold mining resources, and acting as a support force for the Bashir government in terms of protecting it from international opposition", Samuel Ramadi, author of the book Russia in Africa, told Al Jazeera.
The RSF remained Wagner's closest collaborator on the ground after Bashir's ouster. Yet the mercenary outfit's Sudan operations (unlike those elsewhere in Africa) were not cited by Washington when Wagner was placed under new sanctions by the US Treasury Department earlier this year. In an analysis for The Africa Report, Sudanese democracy advocate Amgad Fareid Eltayeb suggests this omission was intended to buy the RSF's acquiescence in the pending transition to civilian rule—despite the paramilitary force's repeated acts of repression against pro-democracy protesters.
However, now that the RSF has unambiguously fallen out with Sudan Armed Forces, the lines are more clearly drawn. In a commentary for The Hill, Dr. Ariel Cohen of beltway think-tanks the Atlantic Council and Council on Foreign Relations says that Russia's "fingerprints" are on the attempted coup, and portrays it as part of a pattern across the African continent. In several countries now, Wagner has stepped in as French forces have pulled out, often following a regime change that has benefitted Moscow. Cohen writes:
Russia's influence in Africa remains purely disruptive and predatory. The Kremlin will use Wagner as a cudgel to secure natural resources across Africa and push the U.S. out, just as they evicted France. To keep up, Washington should expand diplomatic engagement, intelligence operations, and sanctioning of all entities linked to Wagner in Africa.

The U.S. should launch, with its allies, a robust program of military training and arms sales to boost pro-Western governments in the areas where China, Russia, and ISIS are on the prowl.
A century and a half later, the Scramble for Africa is back on in no uncertain terms. Last time around, the contending powers were the United Kingdom, France, Germany and Italy. This time it's the United States, France, Russia and China.
Photo via Dabanga Radio