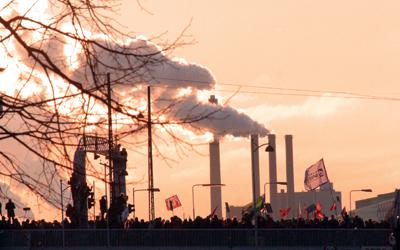 by Chris Williams, The Indypendent
World leaders from government, business and civil society will gather in New York on September 23 for a United Nations climate summit. After two decades of failed talks, it will be the latest attempt to make progress on a global treaty to reduce greenhouse gas emissions. This time, legions of protesters will be on hand to press for meaningful solutions to the climate crisis to be implemented.
Resolving the climate crisis requires the world's leading industrial nations to collectively agree to legally binding cuts in their emissions and to forego the short-term benefits to their economies of continuing to burn more fossil fuels. To look back on the history of the failed UN climate talks is to understand how maddeningly elusive this goal is and to come face to face with a global economic order that is incapable of making the kind of deep systemic changes needed to adequately address the climate crisis.
Continue Reading

WHY U.N. CLIMATE TALKS CONTINUE TO FAIL