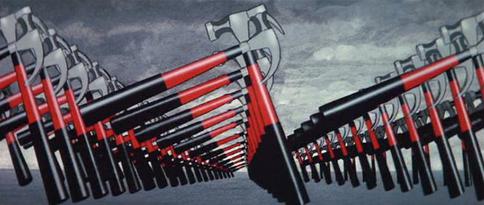 In Episode 140 of the CounterVortex podcast, Bill Weinberg calls out former Pink Floyd creative genius Roger Waters as a propaganda agent for the criminal regimes of Vladimir Putin, Xi Jinping and Bashar Assad. In his recent CNN interview, Waters blames Ukraine for getting invaded, falsely states that "Taiwan is part of China," and dismisses as "bollocks" that there are human rights abuses in China. He has the unmitigated chutzpah to send an open letter on social media to Ukrainian First Lady Olena Zelenska urging her to use her influence on her husband to "end the war"—to which she rightly responds: "If we give up, we will not exist tomorrow. If Russia gives up, war will be over." We've noted before Roger's spewing of genocide-abetting denialism about the Syria chemical attacks. And he disses his own fans who don't go along with his war propaganda. Roger Waters has become the fascist rock star he once satirized in The Wall. The public acrimony between Waters and his ex-bandmate David Gilmour has now become political, with Gimour's release (under the banner of Pink Floyd) of the song "Hey Hey, Rise Up," explicitly in support of Ukraine. David Gilmour is right, while Roger Waters is now just another brick in the wall.
Listen on SoundCloud or via Patreon.
Book discussed: Taiwan's 400 Year History by Su Beng
Production by Chris Rywalt
We ask listeners to donate just $1 per weekly podcast via Patreon—or $2 for our special offer! We now have 45 subscribers. If you appreciate our work, please become Number 46!
Image via Wikipedia