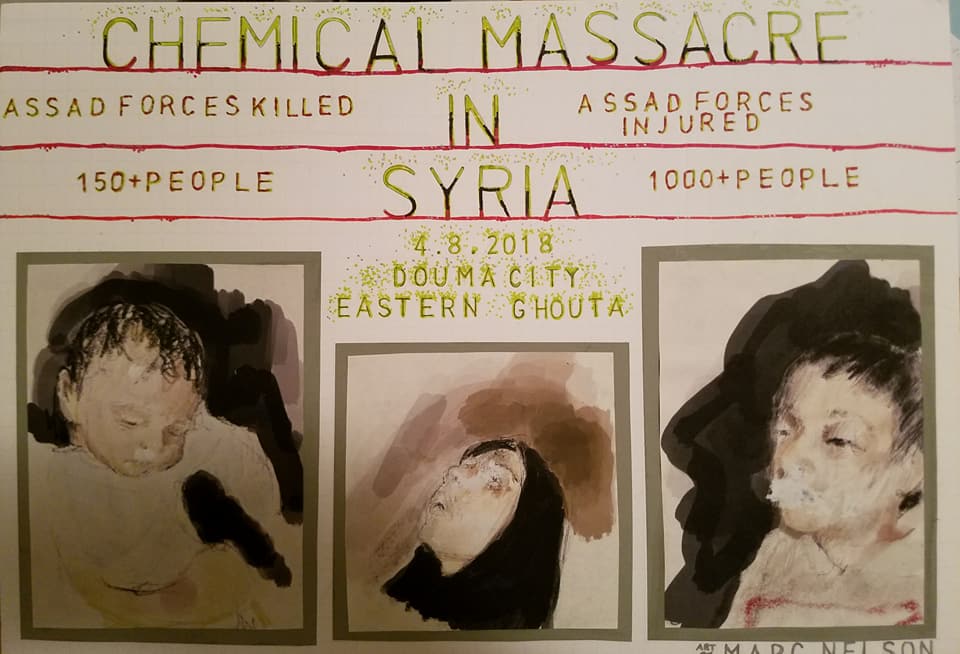 A sudden feeding-frenzy of revisionism about the April 2018 Douma chemical attack in Syria has broken out, with celebrities glomming on in unseemly manner. This time Susan Sarandon joins already proved Assad regime shill Roger Waters, their spewing avidly lapped up by Kremlin propaganda organ RT (of course). But also getting on this bandwagon—most disgracefully, because he purports to be a "journalist"—is Robert Fisk. Not just a mere aging rock star, Fisk is able to loan more potent propaganda service to the Assad regime—for which he has been called out by Syrian left-opposition figure (and survivor of Assad's prisons) Yassin al-Haj as "indoctrinated" by the regime. Fisk's May 23 revisionist write-up in The Independent was entitled "The evidence we were never meant to see about the Douma 'gas' attack." Note that he even disingenuously puts "gas" in scare quotes, while even he doesn't go so far (in the actual text of the story) as to question whether poisonous gas was used at Douma.
This all hinges on a supposedly leaked document from the Organisation for the Prohibition of Chemical Weapons (OPCW), which Fisk inacccurately renders as the "Organisation for the Prevention of Chemical Weapons."  Fisk fails to note that the supposed document was first brought to light by the pro-Assad "Working Group on Syria, Propaganda and Media" (a perhaps unintentionally ironic name), a formation with a track record as serial war crimes denialists. The supposed document purports to claim that the shells from the Douma attack did not fall from the air but were planted. (The implication being, of course, that the rebels gassed themselves as a provocation.) The OPCW has not acknowledged the document as authentic, and it contradicts the findings of every bona fide investigation into the attack.
In a piece wryly entitled "Lies, damned lies, and engineering sub-team reports," Linux Beach blog (which has assiduously tracked the volumes of pro-Assad propaganda in the mainstream and "alternative" media), deconstructs why, in fact, we "weren't meant to see" the supposed OPCW document: Because (assuming the document is authentic, which is likely enough) it was a "sub-team" report issued back in February—just ahead of the first formal OPCW findings on the attack—and arrived at a conclusion at odds with those approved by the full Fact-Finding Mission (FFM). The document is clearly marked "DRAFT FOR INTERNAL REVIEW." Writes Linux Beach:
The OPCW, like most science-based investigative bodies, applies the best science to the known or knowable facts and presents its conclusions at the end of the investigation. To be sure, there will be wrong turns taken in the course of the investigation, as well as differences of opinion among the investigators. Wrong turns always show themselves in due course, and differences of opinion can generally be worked out if the facts can be agreed upon and pure science is applied. When there are overriding political considerations involved, this can be more problematic.

For example, Russia has never seen a chemical weapons attack in Syria that it has been willing to blame on Assad or itself, so to the extent that it has any say in the make-up of the OPCW or its FFM teams, that member is as likely to deny Assad's responsibility for a CW attack, as a Trump appointee to the EPA is likely to deny climate change…. [W]hat we need most from the OPCW is a scientific body that can apply its expertise to work out, as best it can, what happened in a given incident. We don't need to be handed an array of opinions, and told to figure it out for ourselves.
Just to be clear, amid the irruption of celebrity denialism and sound-bite simplifications…. From 2015 to 2017, the OPCW was empowered to attribute responsibility for chemwar attacks in Syria. But after its report on the Khan Sheikhoun attack of April 2017, Russia vetoed an extension of the organization's Joint Investigative Mechanism. (Throughout the eight-year Syrian conflict, Russia has vetoed 12 UN resolutions to criticize, investigate or censure its client, the Assad regime.) In June 2018, other OPCW members pushed back. Over the objections of Russia, Iran, and the Assad regime, the OPCW Conference of State Parties authorized a new group—the Investigations and Identification Team—which is empowered to issue findings of blame. On March 1, 2019, the OPCW's Fact-Finding Mission issued a report finding "reasonable grounds" that a toxic substance had been released at Douma. We still await the Investigations and Identification Team report, which will issue formal findings of blame for the Douma attack. (See EA Worldview)
So Sarandon, Waters and Fisk are glomming on to unofficial and incomplete findings from the Fact-Finding Mission, which is itself not even responsible for assigning the blame in the attack.The proverbial much ado about nothing, but it reveals a deep intellectual cynicism. The rush to denialism every time the Assad regime carries out a chemical attack was first seen after the Ghouta chemical massacre of August 2013. The same "false flag" theory has been dredged up on every such occassion since then. As we've said before: Funny how the rebels have so much poisonous gas yet they only ever seem to use it against themselves. And it's also funny how those who refuse to believe the obvious about Assad's atrocities without a thorough investigaton never protest when Russia blocks such investigations.
Once again, this is the sickening phenomenon of pro-war propaganda disguised as anti-war propaganda. Abetting Assad's campaign of extermination against the Syrian people, in peacenik garb.
Please don't buy it.
Image: Syria Solidarity NYC