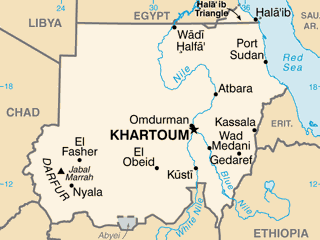 In Episode 171 of the CounterVortex podcast, Bill Weinberg examines the Russian fingerprints on the attempted coup d'etat in Sudan that has plunged the country into crisis—and derailed a transition to civilian rule that was to have taken place in April under terms of a deal between the ruling junta and pro-democracy opposition. The coup attempt was led by the paramilitary Rapid Support Forces (RSF), which was to have been absorbed into the official armed forces under terms of the transition deal. The RSF has been closely collaborating with Russian mercenary outfit the Wagner Group—especially in semi-legal gold-mining operations in Darfur and Kordofan regions. The Wagner Group appears to be operating a death squad to eliminate rival and independent gold prospectors in these regions. The arrangement points to a Kremlin-backed design to make the RSF economically independent of the Sudanese state in preparation for an eventual seizure of power. Russian plans for Moscow's first military base in Africa, at Port Sudan, could have been jeopardized by the transition to democratic rule. Listen on SoundCloud or via Patreon.
Production by Chris Rywalt
We ask listeners to donate just $1 per weekly podcast via Patreon—or $2 for our special offer! We now have 52 subscribers. If you appreciate our work, please become Number 53!
Map: PCL