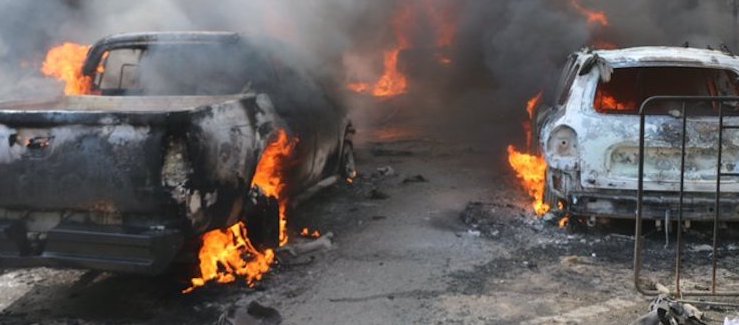 Syrian Kurdish officials on April 29 condemned the bombing in Afrin that claimed the lives of at least 40 civilians, including 12 children. The explosive device was apparently attached to an oil tanker and was detonated as it drove through a crowded market. "We in the Syrian Democratic Council condemn and denounce this cowardly terrorist act that targeted innocent civilians and threatens the remaining ones to move and leave their villages and cities," the SDC, political wing of the Syrian Democratic Forces (SDF), said in a public statement. It called on the international community to fulfill its responsibilities and "work to end the Turkish occupation of the city of Afrin and all other areas that it occupied."
The SDF's commander-in-chief, Gen. Mazloum Abdi, condemned the "terrorist act" in a post on Twitter. The SDF chief suggested the attack was part of the policy of "destruction pursued by the Turkish occupation and its mercenaries."
Abdulkarim Omar, foreign relations chief of the Kurdish-led autonomous administration in the northeastern quarter of Syria, suggested the bombing aimed to "displace the rest of its indigenous population." Omar wrote on Twitter: "The international community must condemn this act of terrorism, and pressure [the] Turkish state to withdraw from Afrin and all the occupied areas [in Syria]."
The Kurdish National Council (KNC), a member of the Turkish-backed National Coalition of Syrian Revolutionary and Opposition Forces, condemned the "terrorist bombing." The KNC statement said the bombing came amid "terrible violations" by armed Turkish-backed elements against the people of Afrin.
Turkish-backed factions have controlled Afrin since March 2018 when the Turkish army launched its cross-border offensive on the Afrin region to target the Kurdish-led People's Protection Units (YPG), which had controlled the area since 2012. Turkey's military operation led to the displacement of thousands of Kurds and the killing of scores more.
Ankara considers the YPG a terrorist organization and an offshoot of the Kurdistan Workers' Party (PKK), a group that has waged a decades-long insurgency against Turkey for expanded Kurdish rights. The YPG has denied links to the PKK.
No party has yet claimed responsibility for the Afrin attack. But the Turkish state has blamed the YPG for the attack.
Activists in the city claim the string of recent attacks have been planned by Turkish-backed groups with the aim of spreading confusion and panic among the indigenous Kurdish residents of Afrin as part of a greater anti-Kurdish program of ethnic cleansing. Multiple human rights organizations have documented large-scale abuses by Turkish-backed groups in Afrin.
In February 2019, the UN Independent International Commission of Inquiry on Syria released a report charging that armed groups in Afrin were guilty of war crimes including "hostage-taking, cruel treatment, torture, and pillage." As recently as early March 2020, the commission again released evidence that Turkish-backed groups have committed war crimes.
Over 100,000 residents are still estimated to be in the area, living under the harsh conditions they have faced since Turkey took control of the Kurdish-majority region. Around 170,000 displaced Kurds from Afrin currently live in Tal Rifaat and its surrounding areas, with limited support. (Kurdistan24)
Photo via Kurdistan24