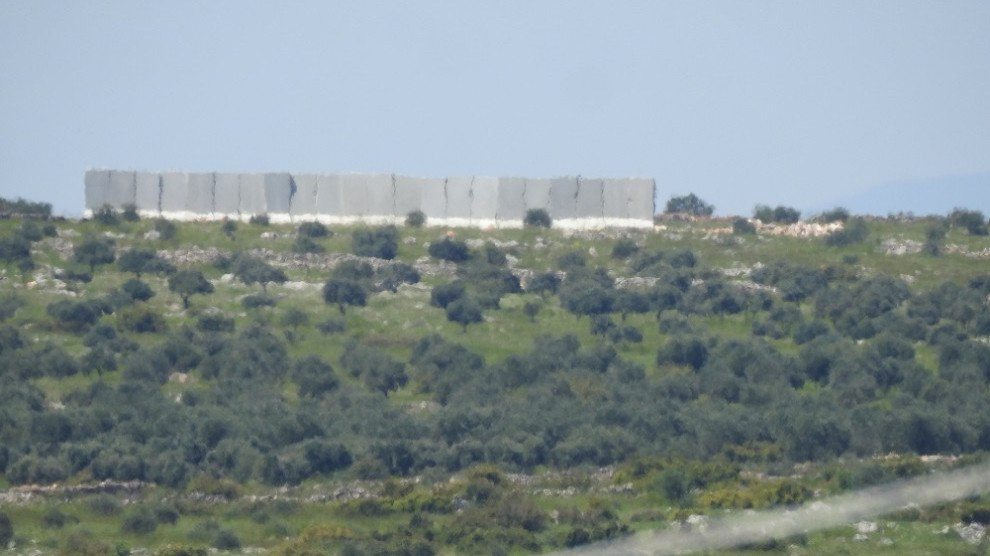 Turkish occupation forces are building a three-meter high security wall through Afrin, the enclave in northern Syria that was a canton of the Kurdish autonomous zone before being taken by Ankara's troops and allied Arab and Turkmen militia last year. Local residents report that lands in the villages of Kimare and Cilbil (Sherawa district) and Meryemin (Shera district) have been confiscated to erect the wall, with some 20 houses destroyed. Reports indicate the wall is ultimately to be 70 kilometers long, stretching from Afrin and Azaz, encircling much of the Turkish "buffer zone" in northern Syria, and completely cutting it off from the now-reduced Kurdish autonomous zone. Construction of the wall spurred the first public protests in Afrin under Turkish occupation, as farmers marched against the land seizures May 2.
The wall is being built before the eyes of the Assad regime. The regime has military positions in Shehba and Sherawa, some only two kilometers from where the wall being built. But the regime has yet to issue a statement or give any reaction to construction of the wall.
Russian forces also have positions in Shehba, including within six kilometers of the wall. Russian military vehicles are seen entering and leaving Afrin frequently.
Walls have already been erected in various locations within Afrin, restricting the freedom of movement of Kurdish residents. Kurds are reportedly not allowed to enter Afrin's Bilbile and Rajo districts, which are in the hands of a Turkmen militia.
Lands abandoned by Kurdish residents who fled when the enclave fell to Turkish forces have reportedly been appropriated by Turkmen and Arabs brought in from elsewhere in northern Syria to settle Afrin. (ANF News, April 25)