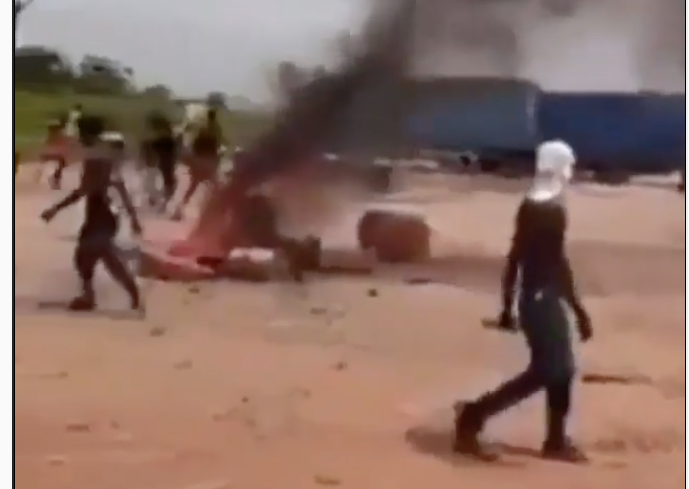 According to widespread reports in the Nigerian media, aggrieved workers at a Chinese company in the Ogun-Guangdong Free Trade Zone (OGFTZ), located in Ado-Odo/Ota district of Ogun state, staged a brief uprising at the complex after they were locked within the premises, ostensibly under emergency measures to contain COVID-19. Several vehicles and a sentry box were set ablaze. Local police authorities confirmed to Nigerian news site Punch that the incident ocurred on April 14. The reports include video footage of workers protesting within the complex as smoke billows in the air.
Another local news site, Sahara Reporters, said workers were protesting their "forced detention" within the facility: "A yet-to-be identified Chinese company in Ogun State has locked its Nigerian workers inside its premises, refusing to allow them leave despite a stay-at-home and lockdown order instituted by President Muhammadu Buhari in Lagos, Ogun and Federal Capital Territory following the outbreak of Coronavirus in the country."
Complicating things is an April 22 Reuters report, entitled: "False claim: Nigerians burn Chinese stores in response to cases of discrimination of Africans in China." This documents that videos circulating on social media purporting to depict Chinese businesses set ablaze in response to mistreatment of Nigerian nationals in Guangzhou in fact show a fire determined not to have been arson at a commercial center in Ibadan, capital of Oyo state. And some reports have added to the confusion by conflating the two incidents, stating that the incident in Ogun was in response to the abuse of Nigerians in Guangzhou.
Nigeria has formally condemned the "extremely distressing" and "unacceptable" footage appearing to show its citizens in China maltreated apparently because of completely unfounded rumors that they are carrying the coronavirus. In a meeting with Chinese Ambassador Zhou Pingjian at his office in Abuja on April 14, Nigeria's Foreign Minister Geoffrey Onyeama said: "There were videos circulating on social media of very disturbing scenes and incidents involving Nigerians in the city of Guangzhou." (Al Jazeera)
The Ogun-Guangdong Free Trade Zone, part of a commercial partnership between south China's Guangdong province and Nigeria's Ogun state, opened in 2009. (Belt & Road News)
Photo via Instagram