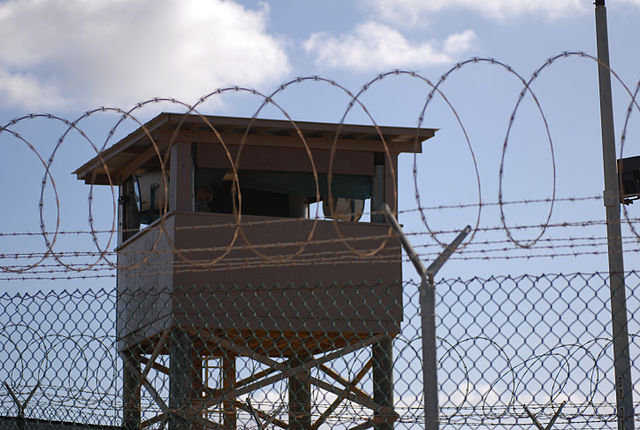 The Biden administration on Feb. 12 launched a review of the US military prison in Guantánamo Bay, Cuba, to determine the facility's fate over the next four years. White House spokespersons told reporters that the administration is considering an executive action to close the prison camp by the end of Biden's term. When asked whether the administration would close the prison within that timeframe, White House spokesperson Jen Psaki replied, "That certainly is our goal and our intention." National Security Council spokesperson Emily Horne reaffirmed this goal, saying, "We are undertaking an NSC process to assess the current state of play that the Biden administration has inherited from the previous administration, in line with our broader goal of closing Guantánamo."
Since being established as a detention facility for US military captives in the "War on Terrorism" in 2002, Guantánamo Bay has housed at least 779 detainees, who remained in custody for many years without trial or charge. Prisoners suffered horrific acts of torture at the hands of military personnel and Central Intelligence Agency (CIA) agents, and nine have died in custody. While the US government has released most prisoners, an estimated 40 individuals remain incarcerated, despite the fact that six of them have been cleared for release. The remainder either face military tribunals, have been convicted, or are held in "indefinite detention." Those released were transferred to 53 different countries, where many still remain without legal status and face state-imposed travel restrictions.
From Jurist, Feb. 13. Used with permission.
Note: The US Office of the Director of National Intelligence (DNI) reported that as of Jan. 15, 2016, about 118, or 17%, of former detainees had become involved in terrorism since their release. But these figures were based on a definition of terrorism that broadly includes any "insurgent attack"—not necessarily against US forces but also "coalition or host-nation forces." Moreover, the DNI used a "preponderance of evidence" standard for "confirmed" acts of terrorism, meaning it believed it was "more likely than not" the individual had engaged in the reported acts, rather than a more rigid evidentiary standard. (HRW)
Previous standards used by the Pentagon to measure recifivism by ex-Guantánamo detainees were even less rigorous.
Only one detainee was released from Guantánamo under the Trump administration.
Photo via Jurist