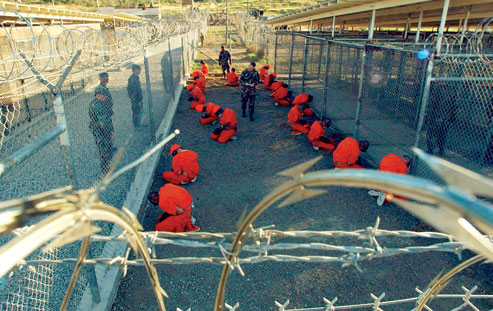 The Trump administration has yet to repatriate Guantánamo detainee Ahmed Muhammed Haza al-Darbi to Saudi Arabia, effectively missing the Feb. 20 deadline established in his 2014 plea deal. Darbi pleaded guilty and admitted (PDF) to involvement in al-Qaeda operations including the 2002 attack on a French-flagged oil tanker near Yemen. In his pre-trial agreement (PDF), it was determined that, contingent on his cooperation, he would be sent back to Saudi Arabia to serve the duration of his sentence. Feb. 20 marked four years from the close of the deal and Darbi was not repatriated to Saudi Arabia.
This delay occurs in the midst of criticism surrounding the new administration's stance on Guantánamo detainees. There has been continued disagreement between the Obama-era efforts of decreasing the numbers of detainees and the Trump administration's continued use of the institution.
Secretary of State Rex Tillerson broke down the Office of the Special Envoy for Guantánamo Closure, an Obama-era institution designed to assist in the coordination of detainee transfers.
Commander Sarah Higgins, a Pentagon spokeswoman, stated that they are "awaiting assurances from the Saudi Arabian government to move forward on his departure [and] hop[ing] this transfer will take place soon."
From Jurist, Feb. 22. Used with permission.
Photo: Wikimedia Commons