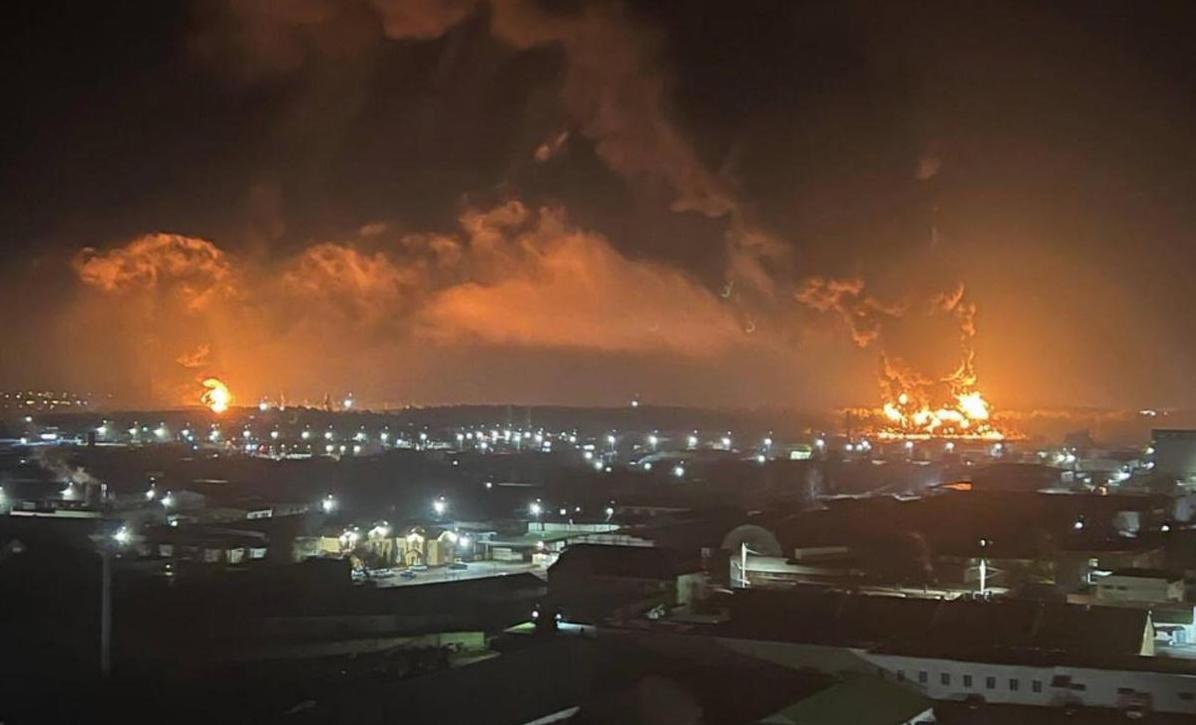 A series of blasts tore through the building of the de facto "Ministry of State Security" in Tiraspol, capital of Moldova's separatist-controlled enclave of Transnistria, on April 25. Officials said the building was fired on by unknown assailants with grenade launchers. Video footage showed windows and doors blown out, although there were no reports of casualties. (Reuters) Ominously, the attack comes one day after a Russian military commander openly broached extending Moscow's war in Ukraine to neighboring Moldova.
Speaking before a meeting of the Union of Defense Industry Enterprises of Sverdlovsk Region, Maj-Gen Rustam Minnekayev, deputy commander of Russia's central military district, said that Moscow's current offensive is aimed at establishing a "land corridor to Crimea," and added: "Control over the south of Ukraine would also give the Russian army access to Transnistria, where evidence of oppression of the Russian-speaking population has also been observed." (Politico, CBS, TASS)
Since the collapse of the Soviet Union, Transnistria has been a "phantom republic," one of several around the world—effectively independent, but with no international recognition. With the support of Soviet troops stationed there, ethnic Russian leadership in the region declared their own independence from newly independent Romanian-speaking Moldova in 1991. Even Moscow does not officially recognize Transnistria, while still maintaining some 1,500 Russian troops there.
Transnistria is only recognized by three other phantom republics: Artsakh, the Armenian-governed enclave in Azerbaijan; and Abkhazia and South Ossetia, the Russian-backed breakaway regions of Georgia. These four entities have jointly established a Community for Democracy & Rights of Nations (formerly the Commonwealth of Unrecognized States) to pressure for their international recognition. (Nationalia)
It should be noted, however, that Transnistria is hardly "democratic." There are periodic elections, but the only monitors are from the Russian-led Commonwealth of Independent States. The latest Amnesty International report on Moldova notes that last year "critics of the de facto authorities faced criminal prosecution."
Interestingly, April 25 also saw two large explosions in Bryansk, a Russian town some 100 miles the Ukrainian border, which is serving as a key staging area for the invasion. The town is also a hub on the Druzhba oil pipeline, and the flames engulfed a petroleum depot operated by Transneft, the Russian company that runs the line. There has been no word yet on the cause of the blast, but Russian officials last week said that Ukrainian helicopters attacked residential buildings in the area, injuring seven people. (Reuters)
Ukraine's Euromaidan Press notes "unconfirmed speculation" that Kyiv's forces were behind the Bryansk blasts, and recalls that there were similar accusations after an attack on an oil depot in Belgorod, another Russian town near the border, on April 1. Euromaidan writes that the "attacks on fuel facilities in Bryansk may also be Russian false flag operations."
It is practically inevitable that we will soon be hearing the same thing about the Tiraspol attack. We've noted since the Ukrainian conflict began in 2014 the use of "black propaganda" by both sides.
Photo of Druzhba blasts: Anonymous Operations