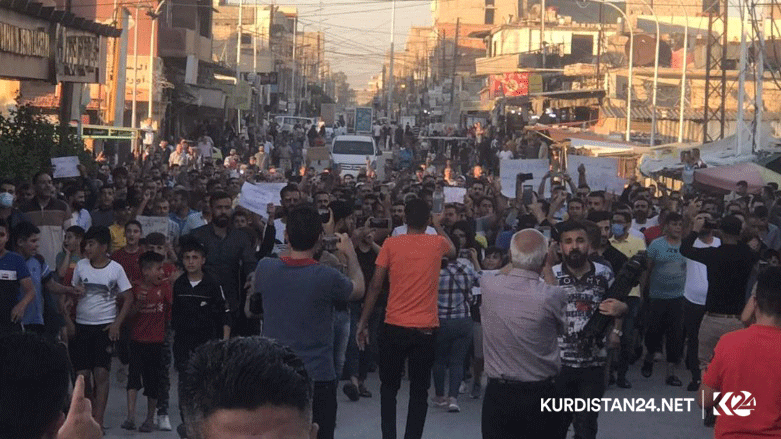 Five are reported dead after Kurdish militiamen on May 18 opened fire on local residents protesting against a hike in fuel prices imposed by the Kurdish-led autonomous administration in northern Syria. Protests were reported in several towns in al-Hasakah province, including Qamishli, al-Haddaja, al-Rashidiya and al-Haddadiya, although reports were unclear on which towns saw militiamen open fire. At least one death was in the town of Shadadi, where armed protesters stormed a Kurdish militia base.
Reports were also unclear on whether the units in question were from the Syrian Democratic Forces (SDF), the military alliance supported by the autonomous administration, or its affiliated police force, the Asayish. The Autonomous Administration of North & East Syria (AANES) overturned the planned price hikes in response to the protests. However, the SDF General Command issued a statement warning that "protesting activities should not be turned into means to strike at peace and security," and implying that the demonstrations had been stirred up by "outside propaganda." (UrduPoint News, Enab Baladi, Kurdistan24, Arab News, ANHA)
A similar incident was reported Jan. 31 in Hasakah city, where one was killed as Kurdish militiamen fired on protesters. The protesters were reportedly supporters of the Bashar Assad regime, who chanted "With our souls, our blood, we sacrifice for you, Bashar." (AFP)
Kurdish forces also fired on protesters in Deir ez-Zor province in May 2019. There were also reports that Kurdish militiamen fired on a a protest by local Assyrian Christians in Qamishli in September 2018.
Qamishli is a remnant AANES stronghold after much of the Rojava region (Kurdish northeast Syria) was seized by Turkish-led forces in the intervention of late 2019. The other towns that saw protests this week are in Arab-majority territory to the south that was taken by the SDF when they drove out ISIS in a years-long US-supported campaign ending in early 2019.
So in the bizarre state of affairs since 2019, Arab and Turkish forces are occupying Kurdish-majority regions of northeast Syria, while Kurdish forces are occupying Arab-majority regions—a reality convenient to the intended Great Power carve-up of Syria, but certain to exacerbate Arab-Kurdish tensions.
Photo of Qamlishi protest: Ekrem Salih/Kurdistan24