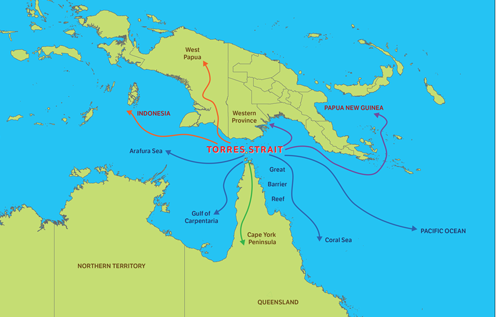 Amid trade wars, diplomatic tiffs and propaganda sniping, the ugliness between China and Australia seems set to escalate as Beijing enters an agreement with Papua New Guinea to establish an industrial foothold within the narrow Torres Strait. Radio Australia reports that community leaders in North Queensland, just across the strait from New Guinea, fear that China's plan to construct the facility will jeopardize border security and threaten the commercial fishing sector.
China's Ministry of Commerce announced that Fujian Zhonghong Fishery Company has signed a memorandum of understanding with the Papua New Guinea government to build a $204 million "comprehensive multi-functional fishery industrial park" on the island of Daru, under the rubric of its Belt & Road Initiative. Daru is one of the few Torres Strait Islands that are governed by Papua New Guinea rather than Australia.
Jeffrey Wall of the Australian Strategic Policy Institute, a former adviser to the PNG government, told Radio Australia: "We should be absolutely alarmed not only because it is strategically located close to Australia, but there is potential for conflict in the Torres Strait. It's the town nearest to Australia and it's only several kilometers from some of our islands in the Torres Strait."
Concerns are also raised about possible exploitation of the Torres Strait Treaty between Australia and PNG, under which Papua New Guineans from 13 villages can move freely across the border and are allowed to fish in Australian waters. Torres Strait Fishing Association president Phillip Ketchell warned that China could use the treaty as a "back door" into the fishery.
Nation-states competing for the "right" to push the world's oceans to biological collapse would be out of wack enough even if other issues were not looming in the background of contested fisheries. And, predictably, there are…
There are also concerns that Beijing will attempt to militarize the outpost, seeking to counterbalance the new US-Australian naval base planned for PNG's Manus Island. Queensland federal MP Warren Entsch said: "Given that we are establishing with Papua New Guinea and America a naval presence on Manus Island, it worries me that there might be other motives for what the Chinese are doing there." China has been accused before of seeking to piggy-back a military presence on its Belt & Road Initiative.
Jeffrey Wall has also warned of China's growing footprint in mega-mining in the mountainous interior of PNG. Earlier this year, the PNG government announced the nationalization of the massive Porgera gold mine, run by a partnership between Canada's Barrick Gold and China's Zijin Mining Group.
As ever, the indigenous people of the Torres Strait, whose island homelands are now bisected by the international border and are set to become strategic in the geopolitical chess game, have been entirely left out of the equation by all the Great Powers.