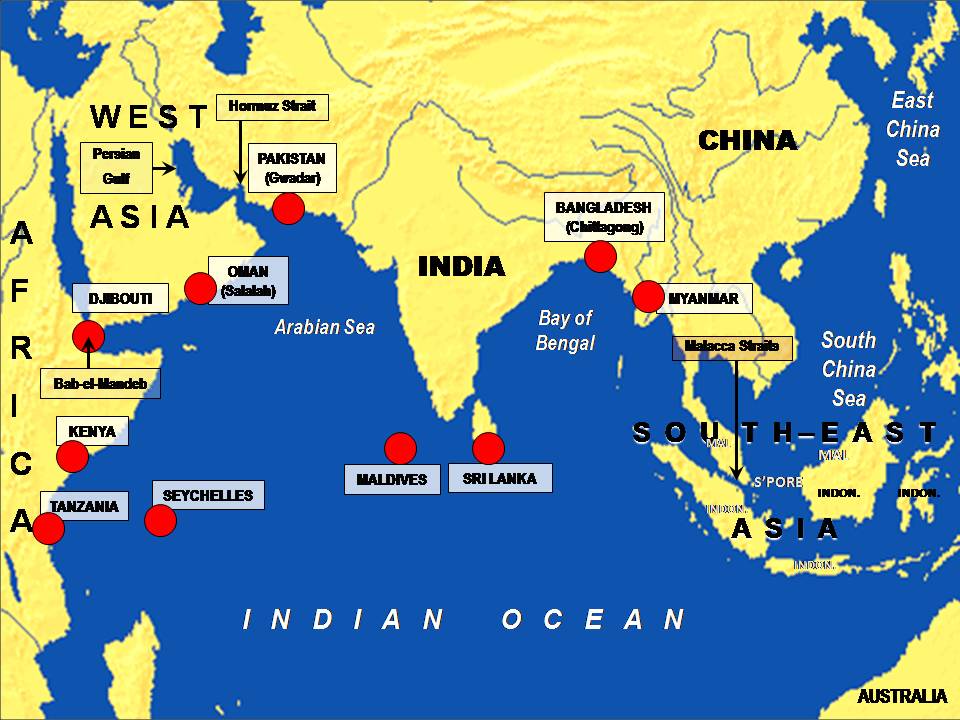 In addition to stationing troops on the disputed islands it claims in the South China Sea, Beijing is rapidly expanding its network of commercial ports across the Indian Ocean. This comes as China is sending warships into the Ocean with growing frequency, leading to fears that the commercial ports could presage military bases, The latest addition is the port of Hambantota in Sri Lanka, acquired in a debt swap deal—the Colombo government was forgiven $1 billion in debt to Beijing in exchange for the Hambantota facility. The agreement explicitly bars China's military use of the port, but critics note that Sri Lanka remains heavily indebted to China, and could be pressured to allow it. The pact also comes as the People's Liberation Army is providing training to Sri Lanka's military. Beijing also donated a frigate to Sri Lanka's navy after the pact was announced. China is simultaenously loaning political support to the Sri Lanka government in its defiance of international pressure for a war crimes investigation over its internal conflict with Tamil rebels.
The Sri Lanka naval deal was announced along with a donation of new patrol boats to the Philippines, part of growing Chinese military aid to Manila. This relationship comes despite Manila's claim to China-held islands in the South China Sea.
China has also gained access to facilities in the Maldives, Seychelles and Oman as part of the maritime component of its Silk Road trade and infrastructure initiative (also dubbed the Belt and Road Initiative). The Pakistani port of Gwadar has also been incorporated into the Maritime Silk Road, as China is investing in the strategic TAPI pipeline project through Pakistan. To secure these interests, Islamabad has allowed Chinese military forces into the Himalayan territory of Gilgit.
Similarly, in addition to developing port terminals in Burma under the Silk Road project, China has established a military listening post in Burma's Coco Islands. Leaders in Bangladesh have gone to great pains to emphasize that there is no militayr component to China's Silk Road port facility under contstruction in Chittagong.
While the Silk Road is an ostensibly civilian project, China has also established its first foreign military base at Djibouti, leading Western wonks to warn that Beijing is seeking a "string of pearls" network of bases across the Indian Ocean. (SCMP, SCMP, SCMP, NYT, The Diplomat, The Diplomat, Nikkei Asian Review, China Daily, Daily Star, Bangladesh, Observer Research Foundation, New Delhi)
Map via CIMSEC