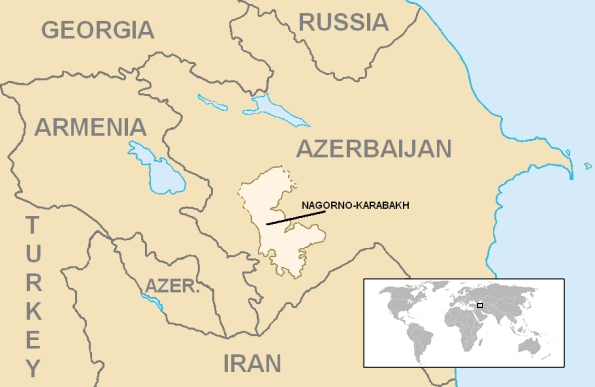 The Azerbaijan Prosecutor General's Office announced Dec. 14 that it has detained four soldiers accused of war crimes against Armenians in the recent Nagorno-Karabakh conflict. The office denounced the alleged actions of the soldiers, calling them "unacceptable" and contradictory to "the mentality of the Azerbaijani people." The Prosecutor General's report was careful to exonerate Azerbaijani officials, including President Ilham Aliyev. The report claims that the alleged war crimes were due to a "regrettable" misunderstanding "of the methods and techniques" condoned by Aliyev in "the struggle against the enemy by some servicemen under the influence of the severe psychological state caused by the war."
Two of the detained servicemen are accused of recording their "offensive acts" against the bodies of killed Armenian soldiers and sharing the videos via social media. The other two are accused of destroying Armenian gravestones in a village cemetery. They also apparently recorded their actions and shared the videos through social media.
According to the report, "necessary research will be conducted" to authenticate the videos of these alleged crimes. The Prosecutor General claims that some videos depicting other war crimes "were found to be fake, and there are serious doubts as to whether some of them are true and reflect reality."
The announcement follows a report from Human Rights Watch condemning the treatment of Armenian prisoners of war by Azerbaijani forces. The Dec. 2 report stated that "there are serious grounds for concern about their safety and well-being" of Armenian prisoners.
Azerbaijan and Armenia signed a ceasefire agreement on Nov. 10. The Russian-brokered ceasefire was seen as a victory for Azerbaijan, as it called for the return of formerly Armenian-occupied territory back to Azerbaijan. However, on Dec. 12 and 13, both countries accused the other of breaching the ceasefire. Aliyev said that if fighting with Armenia broke out again, "this time, we will fully destroy them."
Several prominent Armenian activists have spoken out about the conflict, including the heavy metal band System of a Down whose Armenian-American members have been vocal on Armenian humanitarian issues in the past. The band released two songs, their first new music in 15 years, to "spread awareness about this humanitarian catastrophe." Singer Serj Tankian claimed that Azerbaijan, aided by Turkey, exploited the COVID-19 pandemic to retake the contested territory: "Who attacks a country during COVID?"
From Jurist, Dec. 15. Used with permission.
Map: Wikipedia