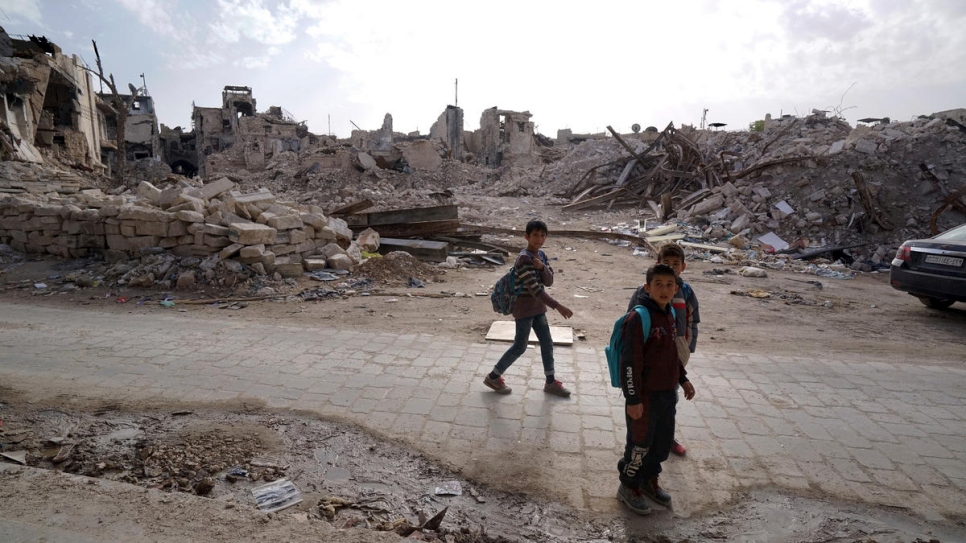 The first-ever extensive report on the Syria war by Russian human rights groups was released on April 2, highlighting the role of Moscow's military intervention in the conflict and its impact on civilians. The report, "A Devastating Decade: Violations of Human Rights and Humanitarian War in the Syria War," is the result of two years of research by Russian rights groups, including Memorial Human Rights Center, the Civic Assistance Committee, Soldiers' Mothers of Saint Petersburg, and the Youth Human Rights Movement. The 198-page report provides chilling first-hand testimonials of life inside besieged areas, aerial bombardment, chemical weapons attacks, as well as the widespread use of torture and deprivation in regime prisons. The report is critical of all parties in the conflict—including the US-led coalition—but especially focuses on the impacts of the Russian intervention.
The report is based on interviews with survivors of the conflict carried out in Lebanon, Jordan, Turkey, Germany, Belgium, the Netherlands and Russia.
Responding to accusations that Russian warplanes targeted hospitals and other civilian infrastructure, the report found: "Based on our interviews and the review of documentation, there was a clear pattern of indiscriminate and targeted attacks that did not correspond to the presence of military targets. Many of our witnesses insisted that in most cases residential areas, located far away from any military objects, were targeted."
The report also includes horrifying testimony from former detainees in Syrian regime prisons, where starvation and overcrowding appear to be a deliberate and systematic tactic. The authors state that they "document major violations of international humanitarian law and international human rights law including arbitrary detentions; enforced disappearances; torture and inhumane treatment in prisons; extrajudicial executions; unlawful attacks including the use of indiscriminate and prohibited weapons; and the use of sieges, starvation, sexual violence and denial of medical care as methods of warfare."
The report is clearly aimed at counteracting saturation war propaganda in Russia. In 2019, after a string of successes by the Moscow-backed Damascus regime, the Russian Defense Ministry organized a propaganda campaign dubbed "Syrian Breakthrough," with a train carrying weaponry and trophies touring the country. The exhibition was widely reported by Russian media and attended by a million people.
"Russian state media does not report on the victims of bombardments, nor the forced displacement of civilians resulting in part from Russia's military actions in Syria," the authors of the report state. "As a result, the Russian public does not have sufficient knowledge to judge whom and what we are supporting in Syria, how much this war costs us, and how much suffering the war has inflicted upon civilians – people who have never taken up arms."
"Russians know very little about Bashar al-Assad's internal policies, the root causes of the conflict, and the massive human rights violations in Syria," the authors add. "The report is a way for us to start a dialogue about this in Russian society and with all interested parties. We would also like to further develop contacts with Syrian activists and civil society organizations and work together to protect human rights in Syria, ultimately working towards the goals of peace and reconciliation." (The New Arab, The Guardian)
Photo of Aleppo ruins from UNHCR