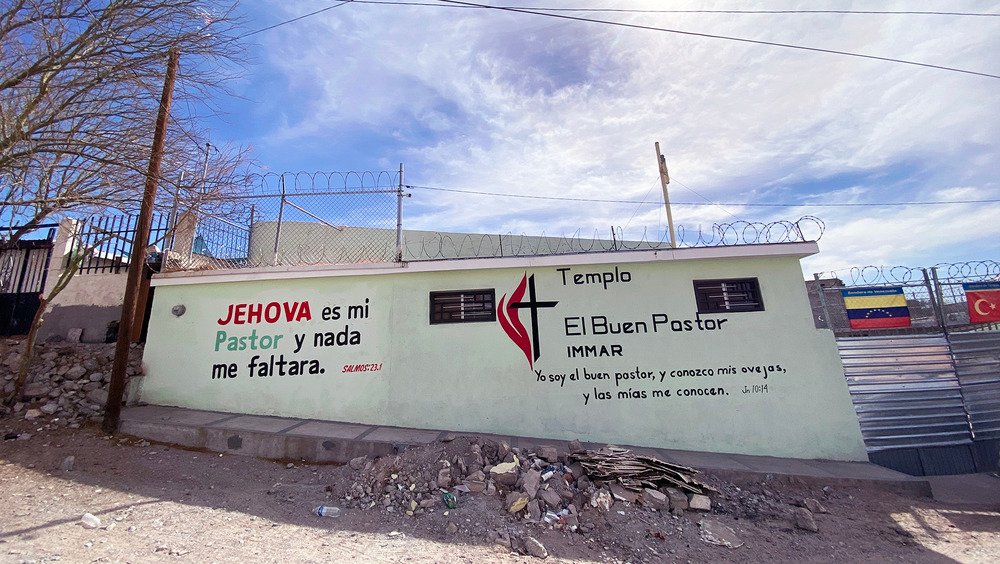 Humanitarian response networks in northern Mexico are stretched thin between the growing number of people fleeing violence, poverty, and climate disasters in Central America, the continued expulsion of asylum seekers and migrants who enter the United States irregularly, and the lingering effects of Trump-era migration policies.
Nowhere is this pressure being felt more acutely than in Ciudad Juárez, a Mexican city of around 1.5 million bordering El Paso, Texas.
Many of the more than 20 migrant shelters in the city are already operating beyond the limits set by COVID-19 social distancing requirements. And civil society organizations are struggling to provide aid and additional housing spaces, while support from the Mexican government and international NGOs lags behind the growing needs.
In March, US Border Patrol, the federal agency tasked with preventing irregular migration, carried out more than 172,000 apprehensions at the US-Mexico border—the highest figure in at least 15 years and one that includes a record number of unaccompanied children.
The uptick in apprehensions is a predictable outcome of pent-up demand, seasonal migration patterns, increasing need to migrate for many in Central America, and double-counting as people who are expelled attempt to cross multiple times.
US Border Patrol also carried out more than 101,000 expulsions last month under Title 42—an order issued in March 2020 by the US Centers for Disease Control & Prevention that allows authorities to immediately expel anyone who crosses the border to prevent the spread of COVID-19.
Critics say the policy unfairly targets asylum seekers and migrants while other forms of cross-border travel have been allowed to continue.
Since the end of January, President Joe Biden's administration has carved out an exception to Title 42 for unaccompanied children—and the Mexican government has been refusing to accept some families turned away from the US—but the majority of people crossing the border irregularly are still being expelled.
In recent weeks, around 80 to 100 people—mostly families—have been arriving in Ciudad Juárez every day after being expelled from the United States, according to Enrique Valenzuela, coordinator of the Chihuahua State Population Council, which oversees migrant shelters in the city.
"Some Mexican states are not welcoming migrants… They are not receiving them back, and that's why US immigration officials are sending them to Ciudad Juárez," Juan Fierro, the director of El Buen Samaritano, a migrant shelter in the city, told The New Humanitarian. "We have to be ready to receive them all with dignity," he added.
That is proving difficult, as people being expelled are augmented by large numbers of new arrivals from Central America as well as with thousands of asylum seekers who have become stranded at the border—in some cases for years—due to policies enacted during the presidency of Donald Trump.
"I must acknowledge it is challenging. Our capacities are being challenged," Valenzuela told The New Humanitarian. "It is not a good time for migrants to travel north… The situation at the border is not good."
'Quickly running out of space'
Ciudad Juárez has long had a reputation as one of the most violent cities in the world. It sees around five murders a day, according to the latest state figures. Asylum seekers and migrants are often targeted by criminals and cartels for kidnapping, robbery, and extortion.
Police patrols have been stepped up close to the border in recent weeks to help with security, and officers often bring the asylum seekers and migrants they find to shelters.
"But that also has led to human rights abuses by authorities," said Diana Morales, director of the Institute for the City & Human Rights (ICIDHAC), an NGO involved in the humanitarian response in Ciudad Juárez. Extortion and robbery are the most common violations committed by police, Morales added.
Mexican authorities, with support from the UN's migration agency, IOM, are operating a quarantine facility at a hotel in Ciudad Juárez where people who have been expelled are recommended to stay for 14 days before being sent to NGO-run shelters. People who test positive or show symptoms stay longer and receive treatment. But the quarantine facility can only hold 108 people and is currently overwhelmed.
"As soon as [people] are sent back to Mexico through our ports of entry, we offer them water, food, and the option for a shelter," Valenzuela said. "It is a reality that our shelters are quickly running out of space. But we are coordinating efforts to open new ones so migrants have a proper place to stay during their journey."
The local government in Ciudad Juárez recently announced that it is converting an old gymnasium into a shelter for around 400 asylum seekers and migrants to help increase housing capacity in the city. State and federal authorities also provide support to NGO-run shelters in the city, but funding from all three levels of government has not been enough to keep pace, according to Morales.
Another quarantine facility, the Leona Vicario Collective Center, which can house up to 800 people, has been operating in Ciudad Juárez with the support of IOM since mid-2019.
El Buen Samaritano
Like other shelters along the US-Mexico border, El Buen Samaritano is supported by a mix of international NGOs, faith-based organizations, cross-border aid groups, and Mexico's local, state, and federal governments. With funding failing to keep up with the increased number of people in the shelter, some days there is not enough food for everyone to get a meal.
"It is a big challenge to feed and attend to all of these people," Fierro said.
The longest-term residents of El Buen Samaritano have been in the shelter for over two years. They are asylum seekers—mostly from Central America—who were placed in the Migrant Protection Protocols (MPP), a controversial Trump-era policy, also known as "Remain in Mexico," that sent more than 70,000 non-Mexicans seeking protection in the United States to wait across the border while their claims were processed.
The Biden administration, which promised to end MPP during last year's campaign, has started to wind down the program. Since the end of February, US officials have been gradually allowing people in MPP to enter the United States, but up to 25,000 are still waiting in places like Ciudad Juárez for their turn to cross, according to the UN's refugee agency, UNHCR.
Alejandro Gutierrez, 14, and his mother are enrolled in MPP. They left their home in Joyabaj, Guatemala, after their crops were destroyed last November by Cyclone Eta, one of the most powerful and destructive storms to ever hit their hometown. The storm left them with no source of income or food. When they reached the US border, they were placed in MPP and sent back to Mexico.
Unlike more recent arrivals, Gutierrez and his mother now have a date on which they'll be legally allowed to enter the United States to complete their asylum process. In the meantime, they are staying at El Buen Samaritano.
"I have been here since last year staying at this shelter. I can't say this is home, but it is as close as it gets for now," Gutierrez said. "I try not to think too much about it because it makes me sad to say goodbye to my friends and to the people at the shelter. But at the same time I'm excited for the future. I can't wait to get the call to leave."
When he does, a spot will open up at El Buen Samaritano.
With the numbers of people arriving in Ciudad Juárez—both from the north and from the south—showing no sign of slowing down, the opening will quickly be filled: perhaps by someone like Juana, the Guatemalan woman expelled from the United States with her three-year-old daughter at the end of March.
Luís Chaparro for The New Humanitarian, April 14 (condensed)
Note: The "Remain in Mexico" was officially suspended pending review under a Biden executive order in February.
Photo: Luís Chaparro/The New Humanitarian