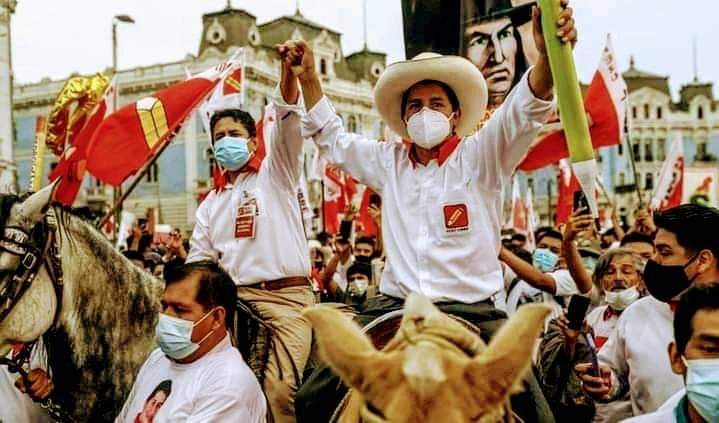 Peru seems poised for polarization following surprise results in first-round presidential elections April 11, that saw a previously unknown leftist candidate, Pedro Castillo, taking 19% of the vote in a very crowded field—more than any of his rivals. In a June 6 run-off, he will face his runner-up—hard-right candidate Keiko Fujimori, who took 13%. The two candidates represent the extremes of Peru's electoral spectrum. Fujimori is the daughter of imprisoned ex-dictator Alberto Fujimori—and had herself been imprisoned as corruption charges were pending against her last year. Her Fuerza Popular party is the paradoxical populist vehicle of the most reactionary sectors of the country's elites, and has actually been assailed by columnist César Hildebrandt as a "mafia organization."
Castillo, in vivid contrast, is a former school-teacher and trade unionist of campesino origins from the poor and rural Andean region of Cajamarca. His successful grassroots campaign is seen as an upsurge from such forgotten parts of the country, in rejection of the Lima-based political class—which took practically no note of him until the actual election day. He harnessed popular anger at a severely mismanaged response to the COVID-19 pandemic (no vaccine is yet available in the country) and related economic agony. He won in 16 of Peru's 24 administrative regions—including all the poorest. He took more than half the vote in Huancavelica, Ayacucho and Apurímac, and 40% in his own Cajamarca.
"The blindfold has just been taken off the eyes of the Peruvian people," Castillo told supporters as the results came in, speaking from a balcony in his home village of Tacabamba, in Cajamarca's Chota province. He was wearing, as throughout the campaign, the traditional sombrero of Cajamrca's peasants.
Castillo became a locally prominent figure during a national teachers' strike that began in Cuzco in 2017. He became candidate of the Perú Libre party last October, with a platform calling for a new constitution and populist reforms such as replacing the Constitutional Tribunal (the country's high court) with a body elected by popular mandate. He has threatened to dissolve Congress if it blocks these proposals. He's also taken cultural-conservative positions, such as opposition to abortion and marriage equality.
Although his public affiliation during his political rise in Cajamarca was with a dissident local section of the teachers' union SUTEP, his detractors are accusing him of links to MOVADEF, political wing of the Sendero Luminoso guerilla movement. Castillo denies any links to MOVADEF, and in fact served as a rondero in his village of Tacabamba—a member of the local ronda, or campesino self-defense patrol. The rondas were formed in the 1980s to protect rural communities from Sendero as well as bandits an cattle-rustlers. (BBC News, The Guardian, Al Jazeera, NYT, EFE, France24, NACLA, La Vanguardia, Barcelona)
Castillo's victory has especially been a humiliation for Rafael López Aliaga of the conservative Renovación Popular, vehicle of the business elite, who was presumed to be Fujimori's principal rival. Upon being bounced out of the run-off by Castillo, he warned of a left-wing "dictatorship, similar to Venezuela or Cuba." He also raised the specter of voter fraud, demanding an audit of all the records from the poll. A follower of the Catholic secret society Opus Dei, López Aliaga ran a slightly surreal campaign, adopting the nickname "Porky" and appropriating the image of the Loony Tunes character Porky Pig.
Castillo's first-place showing was also an upset for Verónika Mendoza of the Juntos por el Perú coalition, the presumed front-runner of the left. She responded to Castillo's victory by calling on his Perú Libre to "guarantee" that it will not "bow its head" to CONFIEP, Peru's chamber of commerce, once in power. She recalled the experience of former president Ollanta Humala, who was elected as a left-populist in 2011, but soon purged his cabinet to appease the extractivist business interests after taking office.
Also humbled by Castillo was George Forsyth, ex-goalkeeper for Peru's national football team, who ran as the candidate of another populist formation, Victoria Nacional. His platform also called for imposing some discipline on extractivist industries—especially creation of a "mining trust" to ensure that royalties from mineral exploitation are invested in local communities. (BBC News, RPP, Canal N, MercoPress, MercoPress, Gestión, NYT)
Downticket candidates with Castillo's Perú Libre were also stigmatized by supposed Sendero Luminoso connections. Guillermo Bermejo Rojas, a congressional candidate with the party from Lima, had his bid effectively crushed by such accusations. He had been absolved by the courts in 2017 after facing charges of Sendero collaboration. Just a week before the election, the country's Supreme Court (the highest judicial body dealing with criminal cases) annulled the lower court's ruling and re-opened the charges. (EuropaPress, Peru21)
Photo of Pedro Castillo in Lima via Twitter