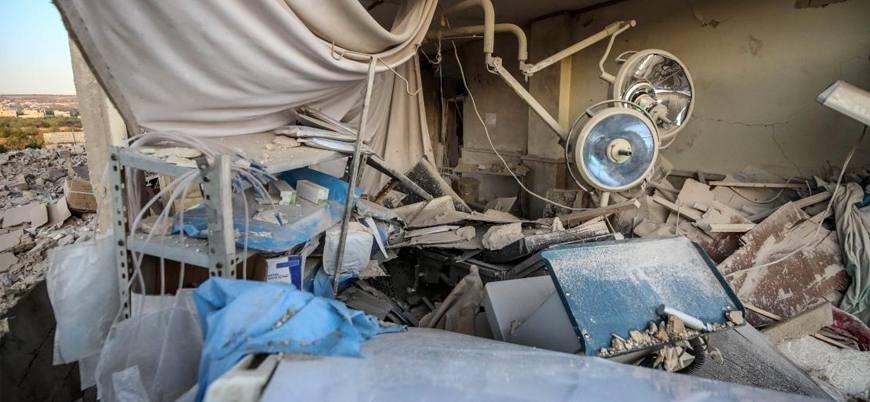 Aid groups working in besieged northern Syria are expressing outrage after a hospital in the town of al-Atareb was destroyed by artillery fire March 21. Six people were killed in the strikes, including a child, and at least 16 injured. The hospital was within the rebel-held pocket of Aleppo province, which has come under renewed bombardment by the Assad regime and Russia in recent weeks after a year-long lull in the fighting. The hospital was jointly supported by the International Rescue Committee and the Syrian-American Medical Society (SAMS). All the casualties were civilians.
The IRC country director for Syria, Rehana Zawar, said in a statement: "Although SAMS shared the hospital's coordinates through the UN's notification system, it came under attack and has now been damaged so severely that it can no longer be used."
Susannah Sirkin, policy director at Physicians for Human Rights, said in a statement: "This deadly, appalling, and inhumane attack against medics and patients reveals once more the barbarism of the perpetrators, who continue to commit these grotesque crimes with utter impunity… A decade of war in Syria has been defined by the government's brazen and illegal attacks on health. As we enter year 11 of the conflict, the Syrian government appears to be continuing its strategy of decimating hospitals and attacking medics."
The hospital was also hit by air-strikes in 2014, and rebuilt partially underground. Al-Atareb has been repeatedly targeted by regime aerial bombardment over the past years.
Physicians for Human Rights has documented 598 attacks on at least 350 separate hospital and healthcare facilities, as well as the killing of 930 medical personnel, since the onset of the Syria conflict. Approximately 90% of these attacks are attributable to the Syrian regime and its allies, most notably Russia.
SAMS president Dr. Mufaddal Hamadeh said in a statement: "There is no excuse for bombing civilian infrastructure, let alone a hospital that serves a vulnerable population facing deteriorating living conditions amid displacement, strife, and COVID-19 We were forced to temporarily close this hospital and other vital facilities in the surrounding areas. It's never an easy decision, but it's our only option to protect our staff and their patients while we're assessing the situation on the ground."
United Nations and human rights group reports have repeatedly found substantial evidence of "war crimes" by the Assad regime and Russia in Syria, including the bombing of hospitals and civilian areas.
Photo via Daily Sabah