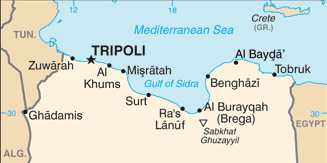 A report to the Security Council by a panel of UN human rights experts finds that foreign fighters and private military companies are responsible for grave abuses in Libya—especially naming Russia's Wagner Group. The report was classified "confidential," but a copy was leaked to the Associated Press. It finds that both Turkish-backed militias loyal to the Tripoli-based Government of National Accord (GNA) and the Wagner Group, apparently contracted by eastern warlord Khalifa Haftar, have employed mercenaries who were veterans of the internal war in Syria. The GNA-aligned militias are implicated in abuses of migrants, who have been "regularly subjected to acts of slavery, rape and torture." The Wager Group is accused of planting unmarked anti-personnel mines on the southern periphery of Tripoli, when the city was besieged by Haftar's forces from April 2019 to an October 2020 ceasefire.
The Wager Group contingent has now retreated with the bulk of Haftar's forces to the port city of Sirte (Surt), east of Tripoli, which has become the new front line.
The report also finds that Chadian rebel groups operate from Libyan territory, and that Sudanese fighters have been recruited by Haftar.
The Wagner Group portrays itself as a private military contractor, and the Kremlin denies any link to the outfit. But the US State Department identifies Wagner's financer as Yevgeny Prigozhin, an oligarch with close ties to Russian President Vladimir Putin. (More at EuroNews, The Guardian, HRW)
Russia and China blocked official release of a similar report to the Security Council in September 2020, documenting violations of the Libya arms embargo by foreign powers. (AP)