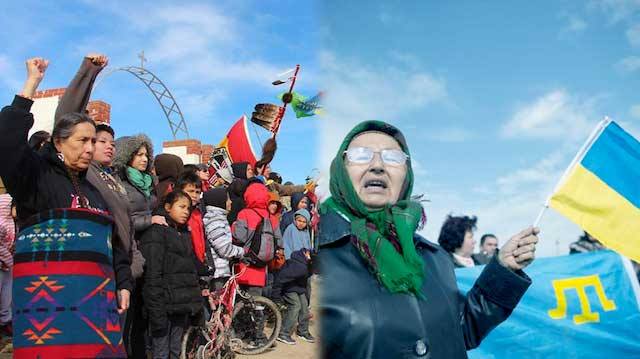 In Episode 17 of the CounterVortex podcast, Bill Weinberg discusses growing repression against the Tatar people of the Crimea, and the abrogation of their autonomous government by the Russian authorities since Moscow's illegal annexation of the peninsula. This is a clear parallel to violation of the territorial rights of the Lakota people in the United States through construction of the Dakota Access Pipeline, and the legal persecution of indigenous leaders who stood against it. The parallel is even clearer in the cases of the Evenks and Telengit, indigenous peoples of Siberia, resisting Russian construction of pipelines through their traditional lands. Yet the US State Department's Radio Free Europe aggressively covers the Tatar struggle, while Kremlin propaganda organ Russia Today (RT) aggressively covered the Dakota Access protests. Indigenous struggles are exploited in the propaganda game played by the rival superpowers. With the struggles of the Tsleil-Waututh people of British Columbia against the Trans Mountain Pipeline and the Red Lake Band of Ojibwe in Minnesota against the Line 3 Pipeline now heating up, it is imperative that indigenous peoples and their allies overcome the divide-and-rule game and build solidarity across borders and influence spheres. Listen on SoundCloud, and support our podcast via Patreon.
Music: Echo of the Steppes by Julian Kytasty
Production by Chris Rywalt
We ask listeners to donate just $1 per episode via Patreon. A total of $30 per episode would cover our costs for engineering and producing. We are currently up to $16.
New episodes are produced every two weeks.
Photo mash-up: Intercontinental Cry/Moscow Times