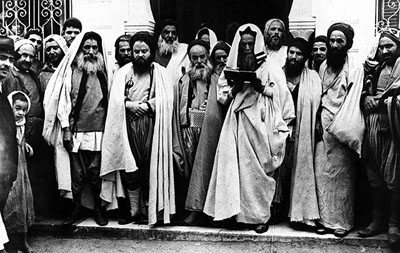 Amid deadly Israeli air-raids on Gaza, a terror attack targets the ancient Ghriba Synagogue in Djerba, Tunisia. The attack came as Jews from throughout the Mediterranean world gathered at Ghriba in the annual pilgrimage for the Lag B'Omer festival. In Episode 173 of the CounterVortex podcast, Bill Weinberg recalls how the Jews of Djerba have been repeatedly targeted over the past generation, with this latest attack coming in the context of a reconsolidating dictatorship in Tunisia and a harsh crackdown on the opposition. Yet the Tunisian Jews continue to resist Zionist pressure to emigrate to Israel, instead embracing their North African indigeneity. This embrace is overwhelmingly returned by the country's Arab and Muslim majority, in repudiation of extremists who would target Tunisian Jews to avenge Israeli crimes. Prominent Tunisians were among the Muslims who sheltered Jews during the World War II Axis occupation of North Africa. Listen on SoundCloud or via Patreon.
Production by Chris Rywalt
We ask listeners to donate just $1 per weekly podcast via Patreon—or $2 for our special offer! We now have 54 subscribers. If you appreciate our work, please become Number 55!
Photo: Rabbis at Djerba synagogue, 1940, via Beit Hatfutsot