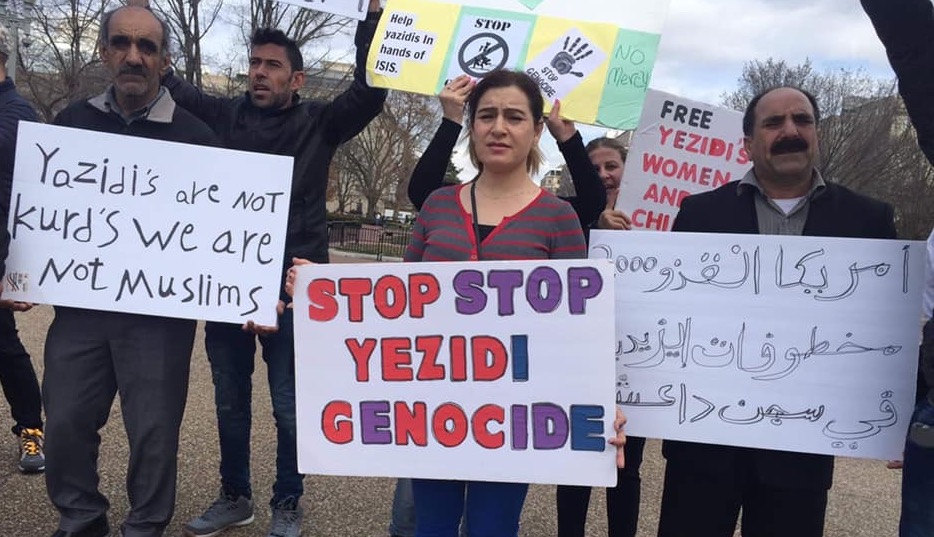 The trial of an accused former high-ranking ISIS member charged with taking part in the genocide of the Yazidi people of northern Iraq opened in Frankfurt April 24. The suspect, identified only as Taha al-J., is under indictment in the murder of a five-year-old girl who he had "purchased" along with her mother at a "slave market" in 2015. The girl is said to have died of thirst while chained up for hours in blazing heat as "punishment" for having wet the bed. The girl, named Rania, was taken captive with her mother when ISIS seized the Yazidi enclave of Sinjar in 2014. They changed hands repeatedly before ending up as slaves in the home of the accused in Fallujah. The suspect faces charges of genocide, crimes against humanity, war crimes, and human trafficking.
Al-J. was arrested in Greece in May 2019, and extradited to Germany in October, where he has since been held in pre-trial custody.
His wife, a German woman named as Jennifer Wenisch, has been on trial for a year at a Munich court. Her case is believed to be the first related to ISIS perseuction of the Yazidis, although she is only charged with murder. Lebanese-British lawyer Amal Clooney and Yazidi activist Nadia Murad—herself a survivor of ISIS sexual slavery and a 2018 Nobel Peace Prize winner—have represented Rania's mother at Wenisch's trial.
Taha al-J. is charged under Germany's 2002 Code of Crimes Against International Law (CCAIL), which extends "universal jurisdiction" for acts of genocide, crimes against humanity, and war crimes. (Rudaw, Al Jazeera, Just Security)
Photo: Wikimedia Commons