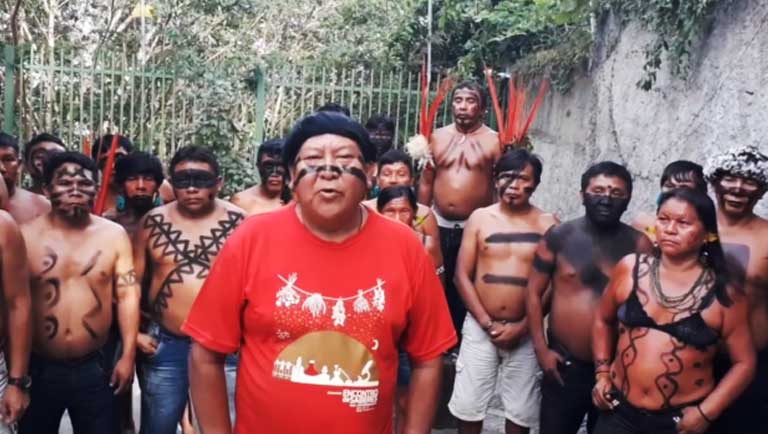 Thousands of illegal gold-miners (garimpeiros) have invaded Yanomami Park, one of Brazil's largest indigenous reserves, demarcated in 1992, and covering 96,650 square kilometers of rainforest in the states of Roraima and Amazonas, near the border with Venezuela. An incursion of this scale has not occurred for a generation, bringing back memories among Yanomami elders of the terrible period in the late 1980s, when some 40,000 garimpeirosmoved onto their lands and about a fifth of the indigenous population died in just seven years due to violence, malaria, malnutrition, mercury poisoning and other causes.
Davi Kopenawa, a Yanomami leader, estimates that some 20,000 miners are now within the park. They are well-funded and backed by entrepreneurs who supply dredges, earth-moving equipment, and airplanes. Three illegal air-strips and three open-pit mines are now in operation within the Yanomami territory.
The operations are polluting the reserve's rivers with mercury and silt, eroding the river banks, and clearing forest. There are also social impacts, such as indigenous women being enticed or coerced into prostitution. Both the Mucajaí and Uraricoera rivers have become so polluted that people living in Boa Vista, the capital of Roraima state, located 570 kilometers downstream, have complained about the deteriorating water quality in the Rio Branco, which is formed by the confluence of these two tributaries.
Until recently, the Brazilian army had two monitoring bases along the Mucajaí and Uraricoera, both used by miners as entry routes. Although the Yanomami complained that the army did not do enough to keep miners out, the presence of these bases deterred some invaders. But at the end of last year, the army closed the bases, saying that its resources were overstretched by the tens of thousands of refugees flooding into Brazil from Venezuela. With the army gone, the miners took advantage, swarming unimpeded into Yanomami Park.
Emboldened by President Jair Bolsonaro's openly anti-indigenous policies and his administration's major budget reductions for Amazon conservation enforcement efforts, the miners have now even established a settlement within the reserve, in an area called Tatuzão do Mutum.
Yanomami leaders charge that, even before his election, Bolsonaro encouraged the invasion by talking about his father's experience as a gold-miner, repeatedly saying that indigenous groups have too much land. Then on April 17, in a live interview on Facebook, the president, accompanied by a few Yanomami, announced that large-scale mining and agribusiness should be allowed on indigenous territory, including Yanomami Park. "Indians should not continue to be poor living above rich land. In Roraima, there are trillions of reais [Brazilian currency] under their land," Bolsonaro said. (Mongabay, July 12)
In a move that may slow the destruction, Brazil's Supreme Court last month suspended Bolsonaro's plan to transfer power over indigenous land demarcation to the agriculture ministry. Justice Luis Roberto Barroso halted Bolsonaro's provisional measure, meaning responsibility for demarcation of indigenous territory will remain with the National Indigenous Affairs Agency (FUNAI) for the time being. In May, Brazil's Congress blocked Bolsonaro's first attempt to transfer power from FUNAI to the Ministry of Agriculture, but the president issued a second decree in an attempt to bypass lawmakers. (Al Jazeera, June 25)
Photo via Mongabay