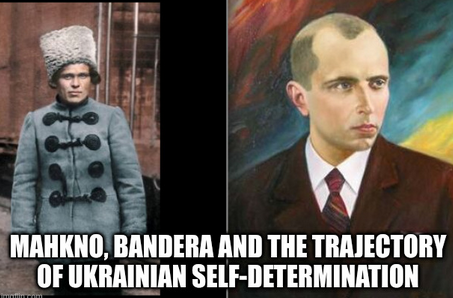 In Episode 130 of the CounterVortex podcast, Bill Weinberg continues his comparison of the two legendary and diametrically opposed exponents of Ukrainian armed resistance to Russian rule: the World War II-era right-wing nationalist Stepan Bandera and the World War I-era revolutionary anarchist Nestor Makhno. Much contemporary left commentary in the West echoes Russian propaganda in portraying Bandera simply as a Nazi collaborator, while many contemporary anarchists (at least) glorify Makhno as a visionary of agrarian utopia. Much is left out of both these narratives. Bandera was quickly betrayed by the Nazis and slapped in a concentration camp after he refused to renounce his declaration of Ukrainian independence. And while historians have had much to say about anti-Semitic pogroms by all factions in the multi-sided 1917-21 civil war in Ukraine, it is only recent scholarship that has brought to light reprisals and atrocities by Makhno's forces against Mennonite agricultural colonies. Listen on SoundCloud or via Patreon.
Books discussed: Makhno and Memory: Anarchist and Mennonite Narratives of Ukraine's Civil War, 1917–1921 by Sean Patterson; The Gates of Europe: A History of Ukraine by Serhii Plokhy; Antisemitism and the Russian Revolution by Brendan McGeever; Nestor Makhno and Rural Anarchism in Ukraine, 1917-1921 by Colin Darch; The Unknown Revolution, 1917-1921 by Voline; The Russian Anarchists by Paul Avrich; Anarchy Comics: The Complete Collection by Jay Kinney
Production by Chris Rywalt
We ask listeners to donate just $1 per weekly podcast via Patreon—or $2 for our new special offer! We now have 43 subscribers. If you appreciate our work, please become Number 44!
Graphic: CounterVortex with images via Marxists Internet Archive, Ukrainian Youth Union