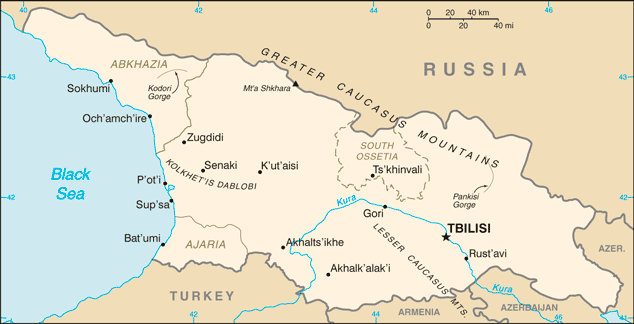 The International Criminal Court's Pre-Trial Chamber I on June 30 issued arrest warrants for three individuals for alleged war crimes committed during the Russia-Georgia war in 2008. Russian nationals Mikhail Mayramovich Mindzaev and Gamlet Guchmazov, along with Georgian national David Georgiyevich Sanakoev are charged with various war crimes, including illegal detention, torture and inhumane treatment, hostage-taking, and illegal transfer of civilians. The ICC says the crimes were committed in August 2008, when the three were fighting for the Russian-backed South Ossetian separatist forces.
On June 24 the ICC accepted the Prosecutor's application for the arrest warrants, filed on March 10. In accepting the application, the ICC observed that:
There are reasonable grounds to believe that civilians perceived to be ethnically Georgian were arrested in the South Ossetian part of Georgia, and subsequently detained, mistreated, and kept in harsh detention conditions in a detention centre in Tskhinvali, before being used as a bargaining tool by Russia and the South Ossetian de facto authorities, and used for an exchange of prisoners and detainees. As a result of the exchange, the detainees were forced to leave South Ossetia.
In August 2008 the Russian military intervened in Georgia's conflict with the Russian-backed forces in South Ossetia. The intervention claimed hundreds of lives and displaced tens of thousands of ethnic Georgians. In January 2016 the ICC began to investigate allegations of crimes against humanity and war crimes allegedly committed in and around South Ossetia between July 1 and Oct. 10, 2008. These accusations involved murder, forced evictions, persecution and other crimes.
From Jurist, June 30. Used with permission.
Map: PLC