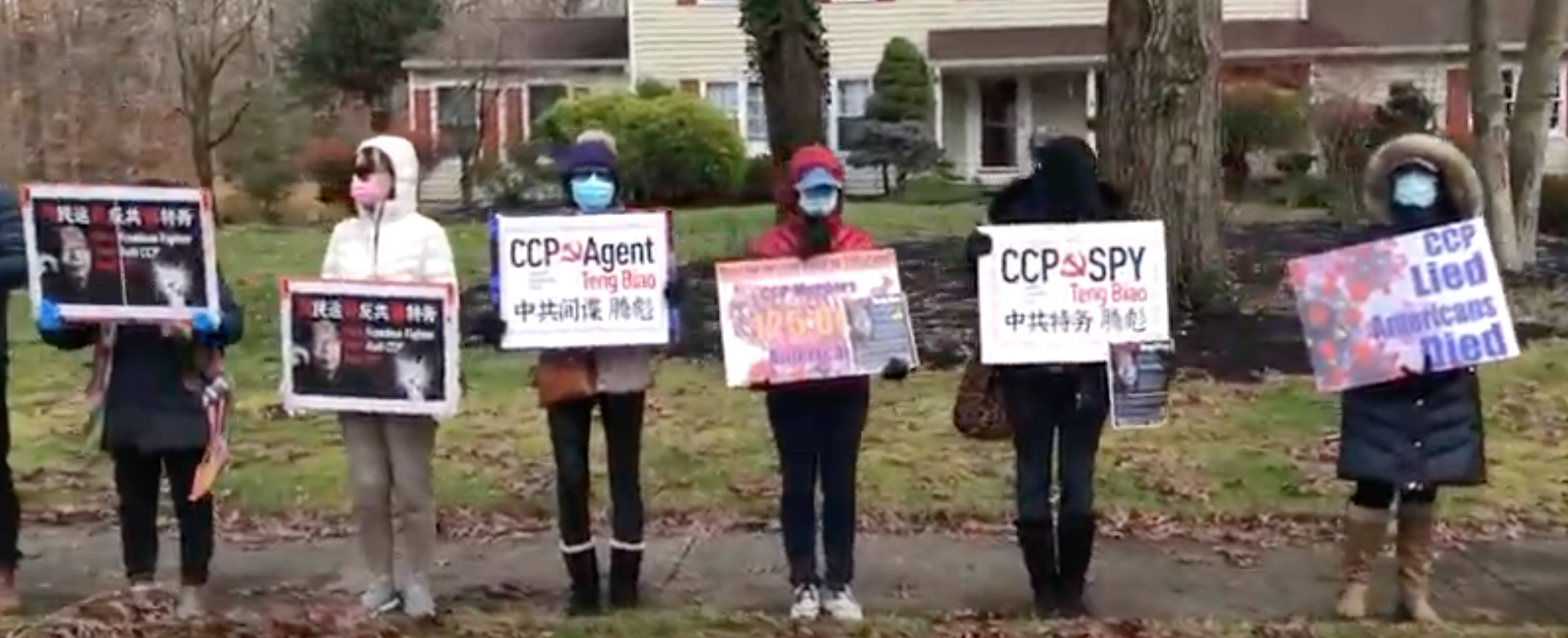 An utterly maddening story in the Princeton Planet Dec. 8 informs us that exiled Chinese dissident Teng Biao has been facing protests at his home in New Jersey's Princeton Junction—by fellow opponents of China's dictatorship. They are, absurdly, accusing him of being a "spy" and collaborator with the dictatorship, and even peddling bizarre conspiracy theories that he helped spread the coronavirus in the United States on behalf of the Chinese Communist Party. Their signs and propaganda are promoting GTV Media, a conservative Chinese-language platform run by exiled Chinese billionaire Guo Wengui in a partnership with far-right operative Steve Bannon. Teng Biao has seemingly been targeted because he has been critical of both Guo Wengui and Donald Trump in articles and on social media.
Guo Wengui's followers also protested in September at the home of Wu Jianmin, an exiled Chinese pro-democracy activist in Southern California, according to Foreign Policy. That month they likewise surrounded the house of Guo Baosheng, a critic of the Chinese government in Virginia. He told Axios that the protesters waved flags of the "New Federal State of China," Guo Wengui's political movement. The protesters backed off after Guo Baosheng filed for a protection order.
Similarly targeted in October was Bob Fu, a veteran leader of the 1989 Tiananmen Square pro-democracy movement now based in Texas and active in support for Christians facing persecution in China. He had to be taken into protective custody after dozens protested outside his home for weeks. He has also filed a lawsuit alleging that Guo Wengui and his associates unlawfully targeted him through online death threats and a campaign of character assassination.
Guo Wengui (variously known as Guo Wen Gui, Guo Haoyun, Miles Guo and Miles Kwok) left China in 2015 after being accused of corruption, money laundering and other offenses—all charges he denies. The former real estate tycoon and owner of Beijing Zenith Holdings now lives in a penthouse on Manhattan's Fifth Avenue and boasts that he's a member of Trump's Mar-a-Lago Club. His GTV Media partner Bannon was arrested while on Guo Wengui's $35 million yacht in August. The Wall Street Journal reports that GTV Media Group is being investigated by the FBI and Securities & Exchange Commission. Meanwhile, it continues to proffer COVID-19 conspiracy theories and claims that the CCP rigged the US election.
Teng Biao has had run-ins with Guo Wengui before. An internationally acclaimed human rights activist and lawyer who earned a doctorate from Peking University before fleeing China with his family in 2014, he co-founded the Open Constitution Initiative (with now-detained dissident Xu Zhiyong) and China Against the Death Penalty (which actually protests the execution state from within China). He is currently a professor at Hunter College and has taught at Yale Law School, Harvard Law School and New York University.
In 2018, Guo Wengui filed a defamation suit against Teng Biao. The suit actually claimed that Teng was paid by the Chinese government to defame Guo. The case was dismissed.
Teng Biao told Planet Princeton: "He dispatched these mobs to harass me and others. It's ridiculous how these people have been brainwashed. Because of my human rights work in China, I was kidnapped, detained, and tortured, and now I live in New Jersey in exile." He explained that some who have swallowed Guo Wengui's propaganda are angry at him because of his opposition to Trump, who they view as the "strong man" who will take down the Chinese Communist Party.
"I'm the dissident of dissidents because I am critical of Trump," Teng Biao said. "Donald Trump doesn't care about human rights or democracy in China. He is a threat to American constitutional democracy—that's the major reason I oppose him. Those people hope Trump can help overthrow the Chinese government. That, of course, is wishful thinking. Donald Trump didn't do that and is not willing to do that."
Teng Biao pointed out Trump's many comments in support of dictators, noted reports that he expressed approval to Xi Jinping of the dictator's mass internment of the Uighurs, and recalled how Trump had dissed the Tiananmen Square protests as a "riot."  Teng Biao concluded: "His remarks and behavior conflict with human rights."
Alas, this is far from an isolated story. We sadly noted over the summer that the truly heroic Chinese dissident Chen Guangcheng, known for his work fighting against forced abortions under China's one-child policy, spoke in support of Trump at the Republican National Convention—even though it was the Obama administration that granted him asylum, and Hillary Clinton's State Department that helped him escape China.
On Dec. 1 the New York Times reported on the Trump administration's (seemingly all too successful) attempts to woo Chinese dissidents and Hong Kong protest leaders. Another truly heroic figure, the HK pro-democracy activist Joshua Wong, shared an online appearance in June with Secretary of State Mike Pompeo and Taiwan's President Tsai Ing-wen. The exiled dissident artist Ai Weiwei, while purporting to oppose Trump, has apparently allowed his Twitter page to turn into a forum for Trumpian conspiracy theory on misguided free-speech grounds. And the Uighur activist Salih Hudayar is quoted saying: "The Trump administration by far has done more to raise our issue than all other countries combined. I'm very skeptical of a Biden administration because I am worried he will allow China to go back to normal, which is a 21st-century genocide of the Uighurs."
As we've said many times before: a global divide-and-conquer scam is the essence of the state system. And it is maddening to see activists get caught up in it—East and West.
Photo: Princeton Planet