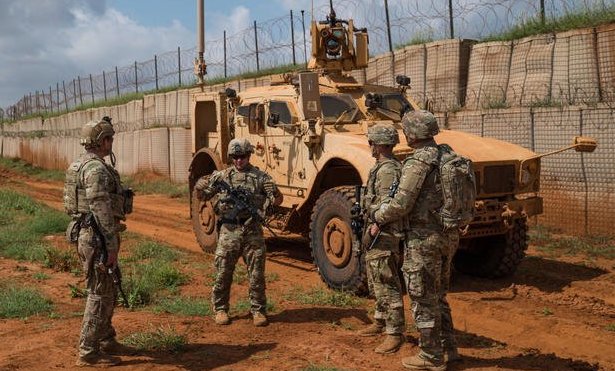 President Trump has ordered the withdrawal of nearly all US troops from Somalia by mid-January, the Pentagon announced Dec. 4. The US currently has about 700 troops in the country, assisting local forces to fight al-Shabaab and insurgents operating in the name of the Islamic State. The Pentagon statement stressed that the order to "reposition the majority of personnel and assets out of Somalia by early 2021" does not signify a change in policy: "We will continue to degrade Violent Extremist Organizations that could threaten our homeland while ensuring we maintain our strategic advantage in great power competition."
The Danaab or Lightning Brigade, an elite force of Somali commandos trained by the US, will continue to carry out operations against al-Shaabab—and a contingent of Pentagon military advisors will be staying behind to oversee them. The US will also presumably continue to carry out air-strikes in their support from bases in neighboring countries.
In through the out door?
And the troops now to be withdrawn are not, for the most part, coming back to the United States—but will be stationed just outside Somalia's borders, ready to go back in as circumstances mandate. The Pentagon statement said only some of the forces slated for withdrawal "may be reassigned outside of East Africa." Those remaining "will be repositioned from Somalia into neighboring countries in order to allow cross-border operations by both US and partner forces to maintain pressure against Violent Extremist Organizations operating in Somalia." Although the statement did not name the neighboring countries, they are presumably Kenya and Djibouti.
Acting Defense Secretary Christopher C. Miller visited Somalia on a November trip to Africa and the Middle East. In Mogadishu, Miller "reaffirmed US resolve in seeing the degradation of Violent Extremist Organizations that threaten US interests, partners, and allies in the region…" Hours after he spoke, a suicide bomber struck a popular ice cream shop in the city, killing several people.
The Somalia withdrawal is a departure from the plan of recently ousted Defense Secretary Mark Esper, who advocated instead pulling troops from the Sahel countries to reduce the US military footprint in Africa. The inspectors general of the Defense Department, State Department and US Agency for International Development also advised against a Somalia withdrawal last month. "Somalia's security forces are unable to contain the threat from Al-Shabaab and ISIS-Somalia, which poses a smaller but still potent threat, without significant international support," the three stated in a joint report. (BBC News, The Hill, Military.com, Stars & Stripes)
Repositioning US forces to just beyond Somalia's borders may be a way to heed this advice while seeming not to—part of Trump's term-end ploy to exploit anti-war and isolationist sentiment, while in fact keeping US troops in the region and at the ready.
Drones not coming home
Drone strikes in Somalia are also to continue, we may more than safely assume. In the first seven months of the Trump administration alone, the US carried out more air-strikes (either by drone or warplane) than took place under the George W. Bush and Barack Obama administrations combined. Human rights groups have accused the US of acknowledging only a fraction of the civilian casualties from those strikes. Amnesty International has accused the administration of portraying civilian deaths from these raids as successful hits on militants, and of refusing to offer compensation to the survivors. (Vox)
Privatized warfare
Working closely with the Danaab Birgade and helping to oversee the operation of drones out of Somalia's Baledogle airfield is a team of private security contractors from Bancroft Global Development, a DC-based nonprofit. While these contractors provide logistical support to the US military forces stationed at Baledogle, the company also as a for-profit arm, Bancroft Global Investments, which is also active in Somalia. This is a separate legal entity that shares leadership with the nonprofit, and has become one of Somalia's largest real estate investors and developers. (Radio.com, Military Times)