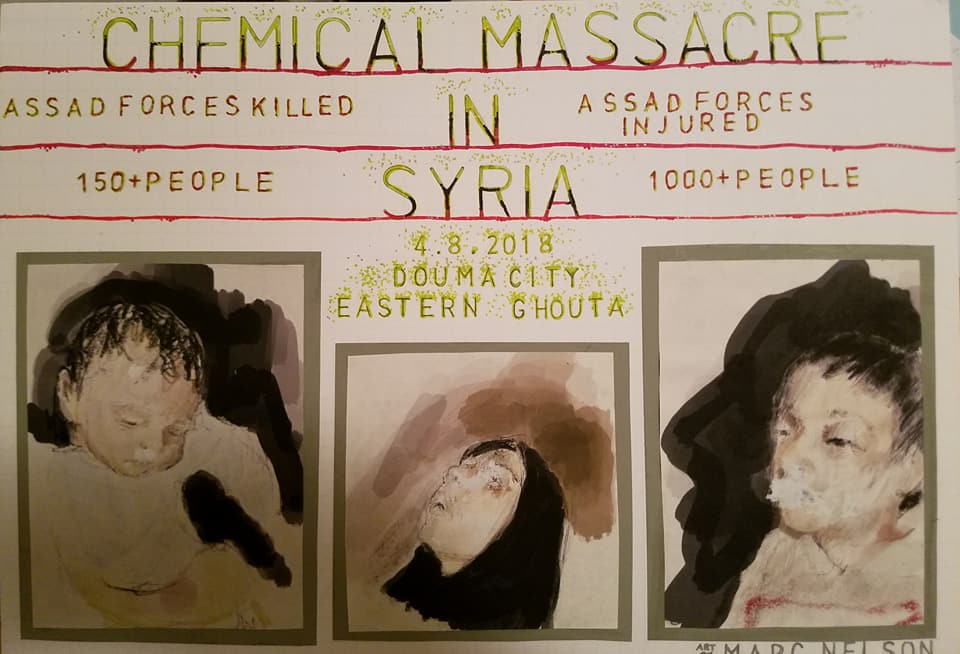 Just over a year after Trump's air-strikes on an Assad regime airbase in response to the Khan Sheikhoun chemical attack, we've witnessed a repeat of this episode—although this time the air-strikes were on wider targets, and carried out in conjunction with British and French forces. In response to last week's chemical attack on Douma in Syria's besieged Eastern Ghouta enclave, missiles and warplanes from the USS Donald Cook in the eastern Mediterranean carried out the first Western strikes on targets around the Damascus area. The following targets are reported to have been hit: the Damascus Scientific Research Center, said to be linked to production of chemical and biological weapons; another purported chemical weapons lab in Barzeh; a chemical weapons storage facility west of Homs; and headquarters of various elite military units. Iranian forces were apparently also targeted, with a base used by the Republican Guard struck. However, this military action looks like it will be no more sustained than that of last April. Defense Secretary Jim Mattis called it a "single shot," and is believed to have put the brakes on the scope "to keep this from escalating." He told reporters after the initial sorties: "Right now we have no additional attacks planned." There are no reports of any deaths in the air-strikes, and the few known casualties are all military personnel. (American Military News, Middle East Eye, Reuters, NYT, CNBC, BBC News)
Brace yourself now for yet another effluence of "anti-war" hypocrisy. In the weeks and months before last year's air-strikes in response to the Khan Sheikhoun attack, the US had been intensively bombing the ISIS strongholds of Raqqa and Mosul. The civilian toll of this air war jumped dramatically under Trump; Raqqa was nearly reduced to rubble, with use of prohibited weapons such as white phosphorus reported. All this went on to utter silence from the "anti-war" hypocrites. I can state with certainty that not a single street protest was held over this in New York City, where I live. But after Trump bombed the airbase—claiming no civilian lives, but destroying a few regime warplanes—suddenly multiple protests were held. It's obvious what maters to the "anti-war" hypocrites. Not Syrian lives. Assad regime warplanes that are used to bomb civilians. (Of course they were equally silent during the Assad-Putin destruction of Aleppo—when not actually cheering on the carnage.)
We are now about to witness a replay of this shameful episode. When Assad used poisonous gas at Douma last week, the most principled response of the "anti-war" hypocrites was (again) utter silence. Probably more common was all the ugly kneejerk malarky about how the attack was a "false flag," or how the victims deserved it for being CIA-jihadists (even the children, apparently). Those who kept silent on the Douma attack—or activelty abetted it by echoing regime propaganda—have zero credibility to now protest Trump's air-strikes.
And don't forget: the same UN investigation that determined Assad was responsible for the Khan Sheikhoun attack also documented 33 chemical attacks in Syria since the start of the war. There have been several since then. Assad has had a blank check to carry out serial acts of genocide. To either silence or active support from "anti-war" hypocrites in the West.
Now, if you want to make a valid case against the air-strikes, go ahead. It is certainly a tragic reality that the fascistic Trump  has won the good will of many Syrians by humbling the dictator who has been destroying their country and slaughtering its inhabitants for the past five years. The air-strikes on regime targets invite a Russian response, and certainly heighten the risks of escalation—potentially to the unthinkable. But unless you also vigorously oppose Assad's use of WMD and general war of extermination, opposing Trump's air-strikes for fear of escalation comes down to the depraved, cowardly and ultimately racist notion that the Syrians should submit to genocide as the price of world peace.
For a single-standard anti-war protest, join the Weekly Peace Vigil for Syria, every Friday at 6 PM in New York's Union Square, until the horror ends. See you there.
Image: Syria Solidarity NYC