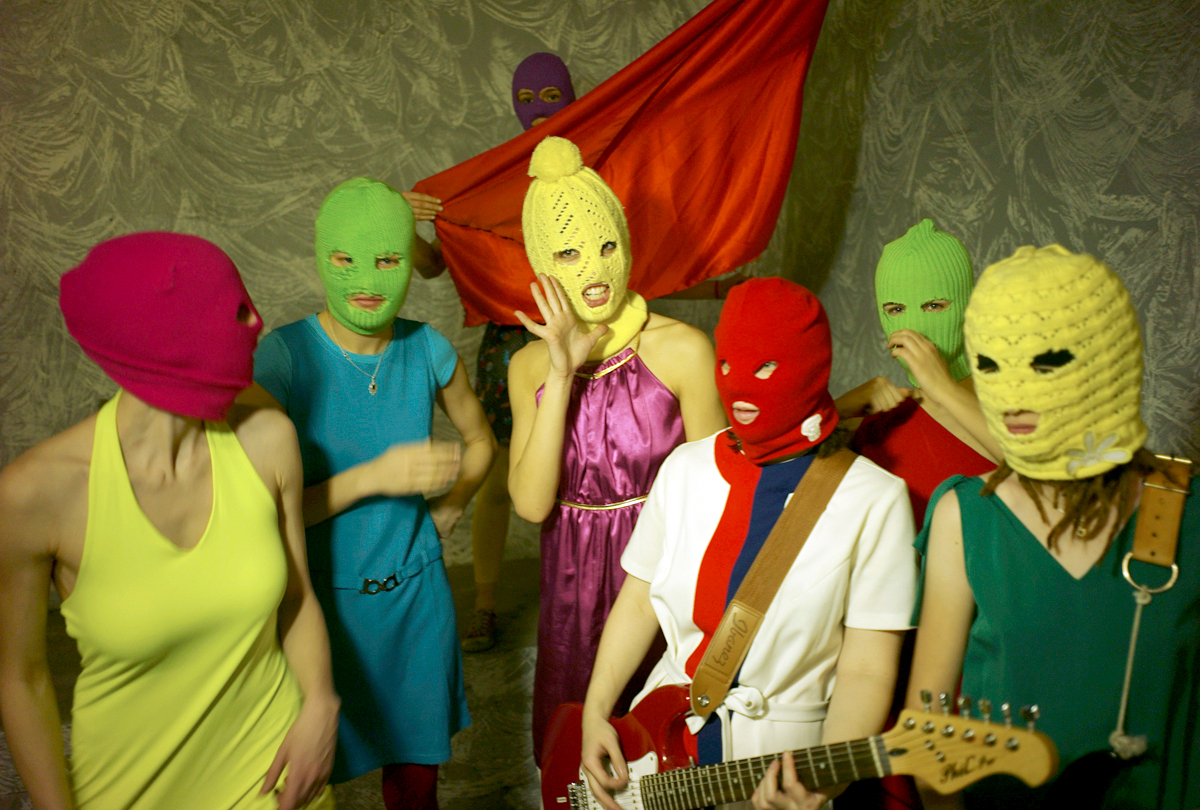 In the latest escalation of its crackdown on opposition, Russia on Dec. 30 designated a disparate group of activists, satirists, and others as "foreign agents." A statement released by the Ministry of Justice listed the high-profile figures as designated "foreign agents," a controversial term with Cold War-era implications of espionage that carries burdensome reporting responsibilities and exposes designees to hefty fines. Among those named were Nadezhda Tolokonnikova and Veronika Nikulshina of the activist group Pussy Riot.
Tolokonnikova gained international prominence in 2012 as she faced prosecution for a political protest that she and other group members staged in a Moscow cathedral. The list also named prominent satirist and political commentator Viktor Shenderovich, as well as journalists Taisiya Bekbulatova, Ivan Belyaev and Elena Vladykina; filmmaker Andrey Alekseev; and former media executive and politician Marat Gelman.
In its statement, the Justice Ministry said: "These individuals have been systematically spreading materials to [large audiences], while receiving foreign financing."
Under the Federal Law N 2124-1 ("On Mass Media"), any media outlet involved in the creation and dissemination of materials while receiving foreign financing can be designated as a foreign agent. The government registry lists 117 such individuals and entities. Apart from media, non-profit organizations (NPOs), unregistered public associations (UPAs) and even individuals may be designated as "foreign agents" under different laws. According to a recent report by Russian human rights initiative OVD-Info—itself designated as a "foreign agent" in September—217 NPOs and three UPAs were listed starting in 2013, of which 98 NPOs have since been shut down.
"Foreign agents" face a labelling requirement, where all their statements on social media or otherwise, must be accompanied by a message indicating their designation. "Foreign agents" are also required to file elaborate reports on the purposes of their expenditures and sources of funding and conduct expensive internal audits more frequently than other NPOs and UPAs. Individuals are required to register a legal entity for the purposes of such reporting. The OVD-Info report describes the privacy violations and practical difficulties they face in tracking each personal purchase, and the impossibility of tracing small online donations. Additionally, the designations turning away readers and potential donors, employers or partners. "Foreign agents" are also prohibited from transferring or receiving funds for organizing public events, and from contesting, campaigning or nominating in elections and referenda. Failure to comply invites fines in millions of rubles and could culminate in court orders to liquidate the entity itself.
These measures were harshly criticized by the Venice Commission of the Council of Europe (officially the European Commission for Democracy through Law).
This latest spate of designations comes in spite of international condemnation of Russia's recent attempts to shutter human rights groups and LGBT+ organizations under these laws. Pussy Riot, however, tweeted that it would not label its posts and would "appeal in court."
From Jurist, Dec. 31. Used with permission.
Note: We have been following the civil rights crackdown in Russia here.
See more on the "foreign agents" laws here.
Photo: Wikipedia