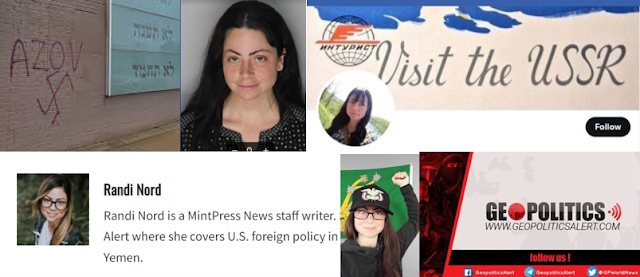 A tankie agent carried out "false flag" vandalism of a synagogue and other Jewish targets in Detroit, attempting to blame it on the Azov Battalion and tar Ukrainians. She turns out to have been a member of the retro-Stalinist Workers World Party and a staff writer for openly dictator-shilling MintPress News—which has itself engaged in "false flag" disinformation, blaming the Syrian rebels for chemical attacks against their own strongholds by the Bashar Assad regime. MintPress has also received funding directly from the Assad Lobby. In Episode 176 of the CounterVortex podcast, Bill Weinberg examines this ultra-cynical propaganda nexus, and asks whether such agents are mere "useful idiots" for the Kremlin, or actual conscious assets operating in the "gray zone"—the sphere of "hybrid warfare" in which the line between state and non-state actors is blurred. Listen on SoundCloud or via Patreon.
Production by Chris Rywalt
We ask listeners to donate just $1 per weekly podcast via Patreon—or $2 for our special offer! We now have 56 subscribers. If you appreciate our work, please become Number 57!
Image: Bob from Brockley