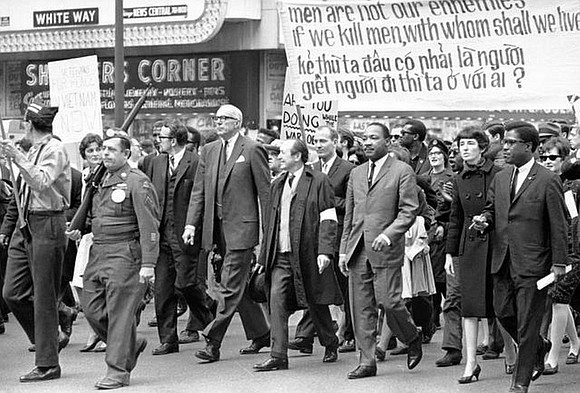 In Episode 158 of the CounterVortex podcast, Bill Weinberg notes that the Russian Socialist Movement has issued a call for solidarity actions with anti‑war activists in Russia on Jan. 19. This is the date when left activists Stanislav Markelov and Anastasia Baburova were gunned down by far-right militants in Moscow in 2009. Today, the Vladimir Putin regime is persecuting activists such as Alexandra Skochilenko—who faces a long prison term for producing public art on an anti-war theme. Instead of responding to this call for solidarity, the ANSWER Coalition and other exponents of the "tankie" pseudo-left have called a rally against aid to Ukraine, and implicitly in support of Putin and his war aims, for Jan. 14 in locations such as New York's Times Square—perversely, in the name of Martin Luther King. The Ukraine Socialist Solidarity Campaign repudiates this pseudo-anti-war rally, urging: "No exploitation of Dr. MLK Jr. to support war criminal Putin!" Debunking the Russian propaganda that portrays Putin's aggression as a defensive move against NATO encroachment, Weinberg demonstrates that the principles propounded by Dr. King in his courageous dissent from LBJ's criminal war in Vietnam now mandate that we direct our protests at Vladimir Putin.
Listen on SoundCloud or via Patreon.
Production by Chris Rywalt
Speeches and essays discussed: "Beyond Vietnam: A Time to Break the Silence" by MLK, 1967; "The Social Organization of Nonviolence" by MLK, 1959; "My Pilgrimage to Nonviolence" by MLK, 1958; "The Doctrine of the Sword," by MK Gandhi, 1920; "Looking Back on the Spanish War" by George Orwell, 1942; "I'm a Ukrainian Socialist. Here's Why I Resist the Russian Invasion" by Taras Bilous, 2022 (anthologized in the book Ukraine: Voices of Resistance and Solidarity)
We ask listeners to donate just $1 per weekly podcast via Patreon—or $2 for our special offer! We now have 51 subscribers. If you appreciate our work, please become Number 52!
Photo: MLK at anti-war march in Chicago, March 25, 1967, under banner with quote from Vietnamese pacifist Thich Nhat Hanh. Via Portland Observer