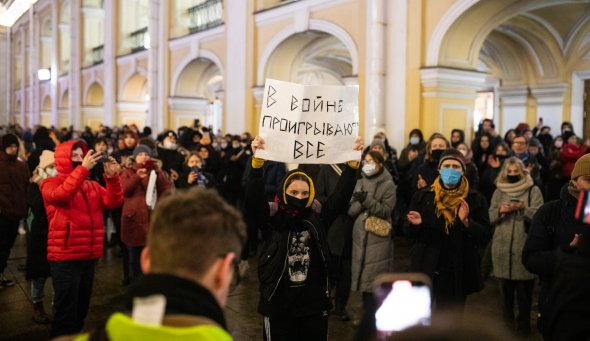 Police detained more than 4,300 people in over 50 cities across Russia on March 6, as activists mounted a second wave of protests against the invasion of Ukraine. From Moscow and St. Petersburg to the Siberian city of Irkutsk and the Pacific port of Vladivostok, thousands of unpermitted demonstrators chanted "No to war!" and "Shame on you!"—a message directed at President Vladimir Putin. In the Urals city of Yekaterinburg, a mural glorifying Putin was defaced—prompting a charge by the riot police. The independent monitoring group OVD-Info reports that over 8,000 have now been arrested in anti-war protests across Russia since the Ukraine invasion was launched last week.
Since the first wave of protests on Feb. 25, the Duma has passed a law imposing a 15-year prison term for anyone who opposes the war—or even calls it a "war." Reporters have been arrested for defying the edict that the invasion only be referred to as a "military operation."
"The screws are being fully tightened—essentially we are witnessing military censorship," OVD-Info's Maria Kuznetsova told Reuters by telephone from Tbilisi, the Georgian capital. (Al Jazeera, NPR, BBC News)
On March 4, the entire staff of Russian television station Dozhd (also online in English as TV Rain) resigned live on-air after declaring "No to war" in their final broadcast. The decision was taken by the staff and management alike after authorities suspended the channel's operations over its coverage of the Ukraine war. (NDTV)
Anti-war protests have also spread to Belarus, which is serving as a staging ground for Russia's invasion of Ukraine.
Photo: protesters in St. Petersburg. Sign reads "In war we will lose everything." Via  OVD-Info