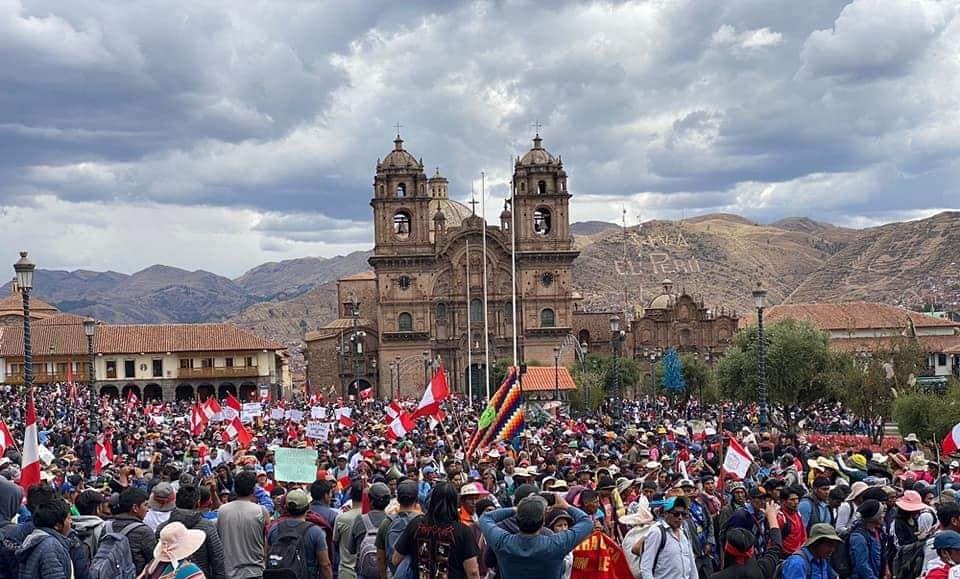 Thousands have filled the streets of cities and towns across Peru since the ousting and detention of president Pedro Castillo on Dec. 7. Protesters have occupied the airport in the southern city of Arequipa, while mass mobilizations and road blockades continue to be held in Cuzco and Trujillo. Protests turned violent in Andahuaylas province, where a National Police station was overrun in the town of Chincheros on Dec. 12. At least seven are dead in the protests by official figures—six in Andahuaylas, and five under age 18.
Defense Minister Alberto Otárola on Dec. 13 announced that a state of emergency has been instated in seven provinces of Apurímac region, including Andahuaylas. The Defense Ministry tweeted an announcement that the armed forces will take control of strategic points including airports and hydroelectric plants in the affected areas. Alarmingly, neither announcement even mentioned Peru's new president, Dina Boluarte, who was sworn in by Congress hours after lawmakers voted to remove Castillo.
Boluarte did issue the official decree instating the emergency. Supreme Decree No 139-2022-PCM initially declared a 60-day state of emergency. The following day, Dec. 14, Supreme Decree 143-2022-PCM extended the state of emergency nationwide for 30 days. This extension was also announced on Twitter by Otárola.
The declaration officially suspends the rights of "personal security and freedom," including the rights of assembly and freedom of movement. Authorities also will be able to conduct forcible home searches without judicial order.
Castillo appeared in court Dec. 13, where he called on the security forces to stop killing people who he said were "thirsty for justice." (Jurist, AP, PRI, PBS, MercoPress, TeleSur, InfoBae, Gestión, La República)
Castillo reportedly refused to appear at his next court hearing on Dec. 15, with his attorneys telling the judge that he considers the process against him to be a farce. Castillo faces conspiracy charges for his attempt to dissolve Congress and instate a "government of exception," which only precipitated his removal from office and arrest. The current hearings are to determine if he will remain in "preventative detention" while the charges are pending. (InfoBae, Gestión)
On Dec. 12, a hand-written note by Castillo was released from his cell at the headquarters of National Division of Special Operations (DINOES), the elite corps of the National Police. In the note, Castillo asserted that he is still the legitimate president of Peru and assailed Boluarte as an "usurper" and "snot and slime of the coup-mongering right" (mocos y babas de la derecha golpista). The missive, released in facsimile on his Twitter account, signs off with slogans demanding his "immediate freedom" and calling for a "constituent assembly" to forge a new constitution for Peru. (InfoBae, RPP Noticias, DFSud)
Photo via KawsachunNews