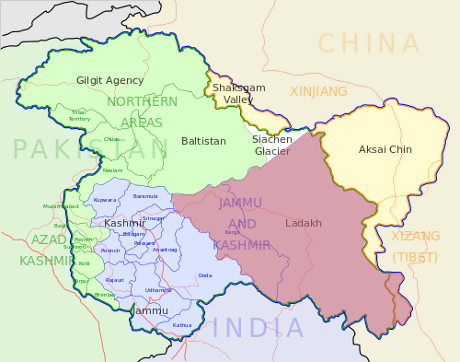 India's government has flooded the northern state of Jammu & Kashmir with troops and cut off internet access upon announcing Aug. 5 the revocation of its constitutionally protected autonomy, and plans to divide the disputed territory into two new political entities with reduced power. Section 144 of India's criminal code, imposing emergency measures, has been instated in the capital Srinagar, and two leading opposition politicians in the territory's legislature, Omar Abdullah of the National Conference and Mehbooba Mufti of the Peoples Democratic Party, have been placed under house arrest.
Article 370 of India's constitution grants Jammu & Kashmir a high degree of autonomy, a concession to the demands of the territory's Muslim majority, many of whom favor independence or union with Pakistan. In addition to abrogating Article 370, Delhi announced plans for a bill to divide India-controlled Kashmir into two "union territories," which have lesser powers of self-government than states. A reduced Jammu & Kashmir Union Territory would continue, at least, to have a legislature. But it would be separated from the Buddhist-majority region of Ladakh, which is to become its own union territory, without a legislature. Complicating matters further is that the populace of Ladakh itself is divided along sectarian and regional lines. News of the plan to separate Ladakh from Jammu & Kashmir was met with jubilation in the principal Buddhist town of Leh, but with foreboding in Kargil, an enclave within Ladakh inhabited by Ismaili Muslims. (India Today, TNW, The Hindu, Times of India)
Pakistan has already broken up its portion of divided Kashmir, separating the "Northern Areas" of Hunza, Gilgit and Baltistan from "Azad Kashmir." Gilgit is also an Ismaili enclave, where the populace has been agitating for greater autonomy or even independence from Sunni-dominated Pakistan.