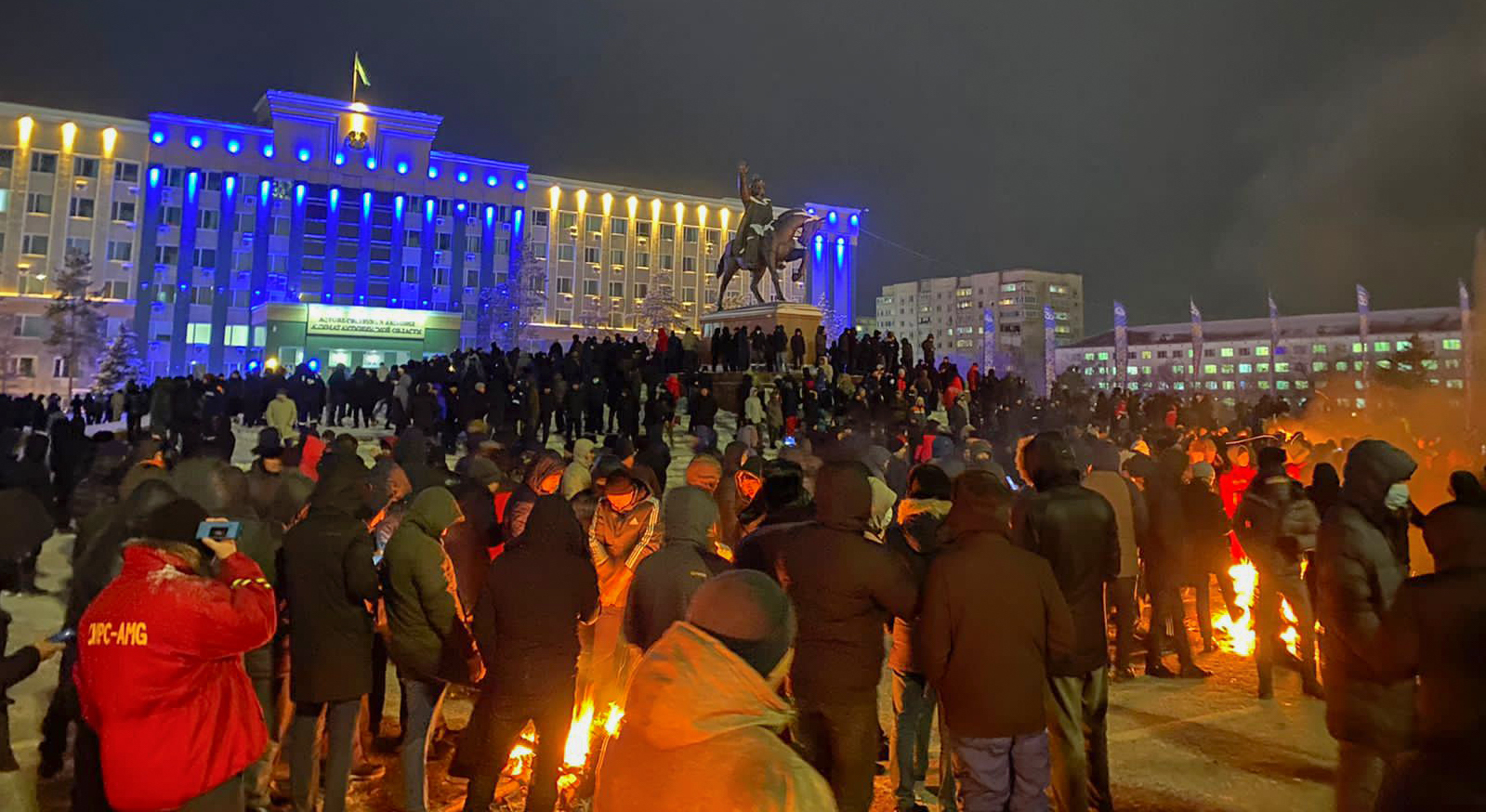 Kazakhstan's President Kasym-Jomart Tokayev on Jan. 5 called participants in the protests that have swept the Central Asian nation this week "terrorists," accusing them of attempting to undermine his government at the behest of foreign powers. He also issued a call for Russia and the other members of the Collective Security Treaty Organization (CSTO) to come to his country's defense.
Protests initially broke out in the western region of Mangystau on Jan. 2, before spreading to the major cities. The near doubling of consumer fuel prices over the past year has struck a raw nerve in Kazakhstan, a country with vast oil wealth, but whose citizens earn a median monthly income of $215 (USD), and whose bottom 10% of wage earners subsist on $71 per month, according to statistics in a 2020 OECD report. What started with complaints about rising prices soon gave way to a panoply of broader grievances. Social media outlets quickly filled up with images of burning government buildings and protestors felling statues of long-time post-Soviet leader Nursultan Nazarbayev.
Baseless claims of foreign 'aggression'
Tokayev's comments provided no explanation or evidence to substantiate his claims of foreign interference. Allegations of illicit foreign funding and "color revolutions" are not unusual among long-time leaders in the former Soviet sphere.
The president's statement signaled a departure from earlier efforts to offer such concessions as price controls and government reshuffles as demonstrations gained momentum across the country earlier this week. Instead, he pledged to "conduct counter-terrorist operations," and referred to the protestors as "genuine terrorists." He went on to charge that these "bands of terrorists…have undergone serious training abroad, and their attacks on Kazakhstan must be viewed as an act of aggression."
The CSTO is a union of several former Soviet states, including Armenia, Belarus, Kazakhstan, Kyrgyzstan, Russia, and Tajikistan. Article 4 of the Collective Security Treaty states that an act of aggression against one CSTO state will be treated as an act of aggression against all of them. The Treaty defines aggression as an "armed attack menacing to safety, stability, territorial integrity, and sovereignty."
Earlier Jan. 4, Reuters reported that Kremlin spokesman Dmitry Peskov told reporters that there should be no external interference in Kazakhstan's affairs, appearing to back Tokayev's claims of foreign subversion.
Concessions and repression
Kazakh authorities had previously responded with both a smattering of concessions and repressive measures. The former included the cabinet's resignation, state-ordered fuel price controls, and, most recently, stripping Nazarbayev of his role at the helm of the country's National Security Committee (NSC). Much of the protestors' fury has been directed at the former leader. After having led the country for some 30 years following the fall of the Soviet Union, Nazarbayev stepped down from the presidency in 2019, but remained the country's most powerful man by virtue of his position on the NSC, and his appointment to the newly created position of First President.
Repressive measures included the declaration of a state of emergency, and mass arrests of protestors. When these measures failed to quell the uprising, authorities swiftly shut off the internet, a move the government has deployed during past protests to prevent activists from promoting their causes on social media. A 2021 Freedom House report noted Kazakhstan's continued tendency to disrupt the internet during protests—including demonstrations that had received formal government approval.
Human rights groups respond
International organizations are imploring Kazakh authorities to respect the country's obligations under international human rights law.
In a statement issued Jan. 5, Marie Struthers, director of Amnesty International's Eastern Europe and Central Asia division, said the Kazakh authorities bear blame for the popular anger due to long-standing rights abuses, and urged the authorities to respect the protestors' rights to peaceful assembly: "The protests unfolding in Kazakhstan, which have turned violent, are a direct consequence of the authorities' widespread repression of basic human rights. For years, the government has relentlessly persecuted peaceful dissent, leaving the Kazakhstani people in a state of agitation and despair… Kazakhstan's commitments under international law and its own constitution enshrine the right to peaceful assembly. The authorities must honor these obligations, protect peaceful protesters and respect free speech." She also urged Kazakhstan to release arbitrarily detained protestors, and to ensure "fair trials in accordance with international human rights law" for those accused of having committed violent crimes.
Hugh Williamson, director of Human Rights Watch's Europe and Central Asia division, struck a similar chord, while also calling attention to specific reported instances of abuse. "Footage shows police and security forces using stun grenades, water cannon, and tear gas in response to the protests," he wrote. "During this crisis, it is vital that Kazakhstan respects the right to peaceful assembly and free speech, and upholds its international human rights obligations. When policing crowds, force should be used as a last resort, and if force is justified, it must be proportionate to the threat and deployed in a way that minimizes damage, injury, and indiscriminate impact."
From Jurist, Jan. 5. Used with permission.
Note: The Collective Security Treaty Organization just announced that it will send "peacekeepers" to Kazakhstan. (FT) The CSTO in October carried out military maneuvers along the Afghan border in Tajikistan.
Photo via Wikipedia