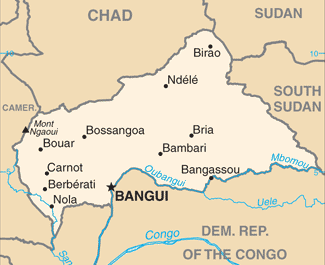 French and Russian military networks are backing rival forces to influence upcoming elections in Central African Republic according to a new report by The Sentry, a Washington-based NGO co-founded by Hollywood actor George Clooney. France used to call the shots in CAR, its former colony, but President Faustin-Archange Touadéra has allied himself to Russia and availed himself of the Wagner Group, a shadowy mercenary organization linked to Vladimir Putin. The Sentry claims France now supports a rebel coalition that opposes Touadéra—who is standing for a second term in December—though the French foreign ministry denies the accusation. All of this spells bad news for ordinary Central Africans, who have suffered under rebel groups for years. More than one in four are currently internally displaced or living as refugees in neighboring countries.
From The New Humanitarian, Oct. 23
Note: The CAR faced internal war from 2013 to the February 2019 Khartoum Accord, after several other peace deals failed. But The Sentry report asserts that foreign aid supplied in the name of implementing the Khartoum Accord has been used by corrupt politicians to build new militias. The armed groups now opposing Touadéra include the Democratic Front of the Central African People (FDPC) and Popular Front for the Rebirth of the Central African Republic (FPRC), formerly a part of the northern and mainly Muslim Séléka rebel alliance.