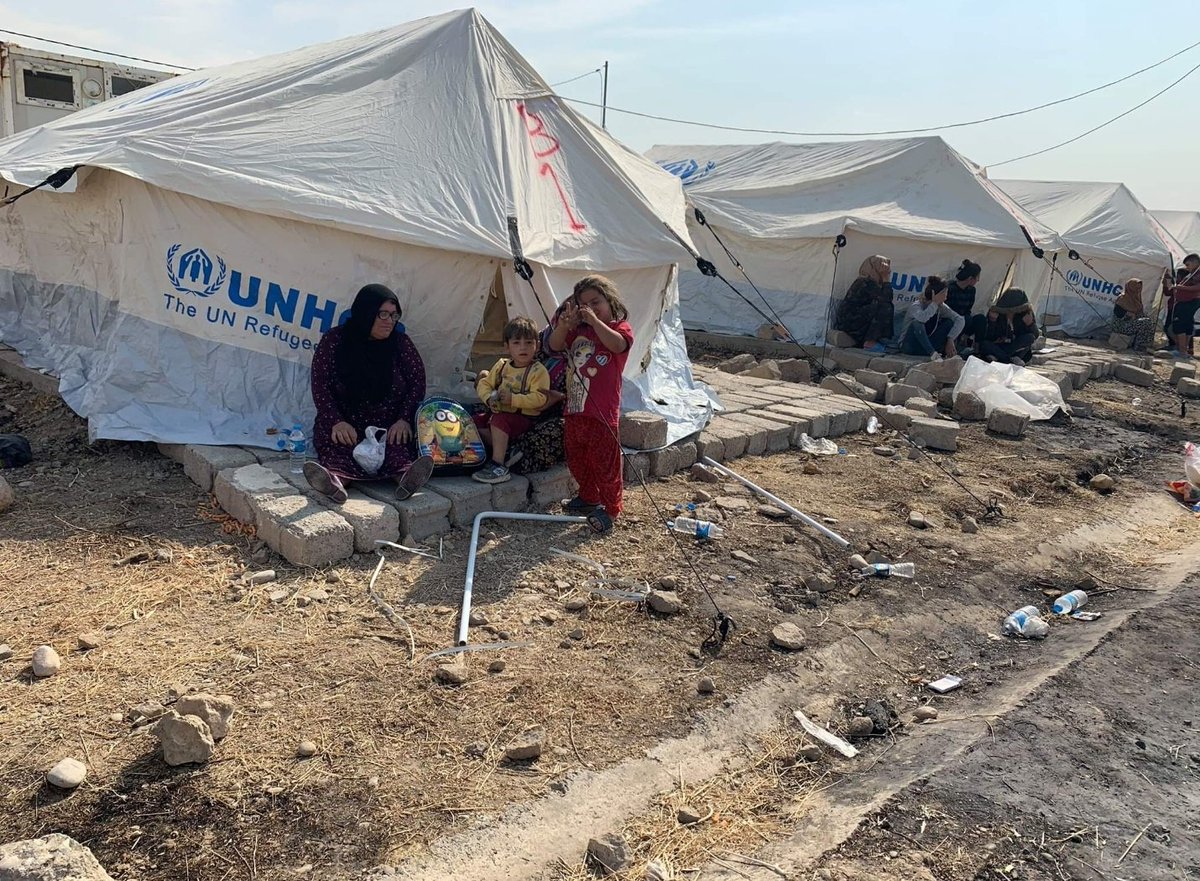 After meeting in Ankara Oct. 17, US Vice President Mike Pence and Turkish President Recep Tayyip Erdogan reached a deal to suspend Turkey's military offensive in northern Syria over the next five days to allow Kurdish forces to withdraw from a designated area along the border. This is being widely reported as a "ceasefire." However, the 13-point agreement does not use the word "ceasefire," but states: "The Turkish side will pause Operation Peace Spring in order to allow the withdrawal of YPG from the safe zone within 120 hours. Operation Peace Spring will be halted upon completion of this withdrawal." Operation "Peace Spring" is the utterly Orwellian code-name for the Turkish offensive, and the YPG is the People's Protection Units, the Kurdish militia in northeast Syria. The YPG was not a party to the "ceasefire," but nonetheless agreed to abide by it. Still, fighting has continued, with at least eight civilians reported killed less than 24 hours into the deal. There is also no consensus on the geographic limits of the area covered by the deal. The official text does not define it, and Turkey and the US remain at odds on the size the "safe zone" (another Orwellian construction) that Ankara seeks to establish in Syria. Ankara is still asserting it will be 100 kilometers deep, while Washington is calling for 20 kilometers. (Rudaw, Middle East Eye, AP)
It remains to be seen if the YPG will succumb to what amounts to an ultimatum that they withdraw from the ill-defined "safe zone"—which would leave the Kurdish population in the area defenseless. More than 160,000 people (overwhelmingly Kurds, of course) have now fled the Turkish advance. Of these, some 1,000 have crossed the border into Iraq, where the UN Refugee Agency has scrambled to establish a rudimentary encampment for them at Bardarash, Duhok governorate. (UNifeed, Arab24)
Turkish forces and their allied Syrian militias have displayed a "shameful disregard for civilian life" in the offensive, carrying out "serious violations and war crimes," Amnesty International says, citing summary executions of captives and targeting of civilians, including medical and rescue workers.
Said Kumi Naidoo, secretary general of Amnesty International: "The Turkish military offensive into northeast Syria has wreaked havoc on the lives of Syrian civilians who once again have been forced to flee their homes and are living in constant fear of indiscriminate bombardment, abductions and summary killings. Turkish military forces and their allies have displayed an utterly callous disregard for civilian lives, launching unlawful deadly attacks in residential areas that have killed and injured civilians."
France24 has posted horrifying video footage of extrajudicial executions of captive Kurds by forces of Ahrar al-Sharqiya, a constituent militia of the Turkish-backed Syrian National Army. The Daily Mail has posted truly hideous footage taken at a hospital in Tal Tamr, near the border city of Ras al-Ayn which has seen the heaviest fighting, showing a young boy with deep burns to his entire upper body. This certainly loans credence to Kurdish claims, reported by France24, that Turkish forces are using napalm and white phosphorus.
The website Verify-Sy, which supports the Syrian opposition and has been working to expose false propaganda about the conflict, accuses supporters of the Kurds on social media of recycling footage of white phosphorus falling elsewhere in Syria and trying to pass it off as from the current Turkish offensive. This is contemptible and counter-productive, if true. But it is equally contemptible to point to such subterfuges to try to cast doubt on the Turkish atrocities clearly now taking place in northeast Syria.
Anti-Kurdish propaganda
The Turkish state is, of course, resorting to its own cynical propaganda. On PBS News Hour, Foreign Minister Mevlut Cavusoglu actually states with refreshing honesty: "This is not a ceasefire. Ceasefires can be done only between two legitimate sides. We are only pausing the operation to allow the terrorist groups, which are the targets of the operation, to withdraw from the safe zone."
But Serdar Kilic, Turkish ambassador to the US, refers to the YPG and the Kurdish-led political party in northern Syria, the PYD, as "an existential threat to us. We have lost 40,000 people at the hands of PKK terrorists, 40,000. You have lost only 3,000 in 9-11 in New York."
There are two subterfuges here. The first is conflating the YPG/PYD with the Kurdistan Workers Party (PKK), the armed Kurdish opposition group in Turkey. The PKK and Syrian Kurdish leadership are ideologically aligned, but organizationally distinct. The YPG/PYD is not active in Turkish territory. Even more seriously, the 40,000 figure refers not to those killed by the PKK over the 35-year conflict in eastern Turkey, but those killed in the conflict overall—including those killed by the Turkish state. (This is made clear by a primer on the conflict from the Crisis Group.)
Even more blatantly, Kilic stated that the PYD/YPG is recognized by the US as a "terrorist organization"—a total fabrication that interviewer Judy Woodruff was apparently too out of her depth to call him on. (When US military support for the Syrian Kurds against ISIS began in 2014, the White House publicly stated that the PYD/YPG is separate from the PKK, and thus not considered a terrorist organization by the United States.)
As for what the White House is saying now…. It is amazing how fast the Syrian Kurds have gone from heroic freedom fighters and coalition partners to terrorist vermin. Almost explicitly invoking "ethnic cleansing," Trump stated yesterday: "For many, many years, Turkey, in all fairness, they've had a legitimate problem with [northeast Syria]… They had terrorists… and they had to have it cleaned out." (HuffPo)
This is a step beyond what he said the previous day of the Syrian Kurds: "They are no angels, by the way." (The Independent) And another gem: "It's not our problem… They've got a lot of sand over there… There's a lot of sand they can play with." (Daily News)
The PKK has issued its own statement in response to the propaganda barrage: "We refuse comparisons being made between our movement and the inhumane thugs of ISIS… We are not guilty of terrorism; we are victims of state terrorism. But we are guilty of defending our people. We believe that the American people will be able to judge for themselves who the dangerous terrorists of this world are." (ANF)
Assadist forces advance
Assad regime forces are advancing into northeast Syria from the south under the military pact struck with the YPG/PYD to resist the Turkish offensive. Assadist forces are reported to have entered Raqqa, marking their return to the city for the first time since 2013. (Daily Sabah) Regime forces are also reported to have arrived in Kobani, near the Turkish border, scene of the Kurds' heroic and iconic resistance against ISIS in 2014. (AP) Russian troops, backing up the Assadists, are reported to have arrived in Manbij—taking over the former US military outpost there that was just abandoned. (Newsweek)
Adding a surreal element to this tragedy, anarchist volunteers are reported (by social media) to be fighting alongside the Kurdish forces in the border town of Serê Kaniyê. This means that anarchists may now be allied (even on a de facto basis) with the fascist Assad. We've warned before that dynamics in northern Syria were leading toward an ultra-paradoxical anarcho-fascist convergence.
The residents of Deir ez-Zor, one of the Arab-majority towns that has been occupied by the YPG-led Syrian Democratic Forces (SDF) since the defeat of ISIS, have meanwhile issued their own statement on the situation: "We refuse any attempt to negotiate an agreement with the Assad regime and its allied terrorist militias that will facilitate the regime's entry into our areas or allow it to manipulate and endanger the safety and security of the population. We consider any party, group or individual(s) working for or with the Assad regime our enemies and the enemies of the people of Deir Ezzor. We demand that the Autonomous Administration [of the Kurdish leadership] and the Syrian Democratic Forces to respect the security concerns of local citizens and that they abide by the political decisions of the civil and military forces representing the people of Deir Ezzor." (Syrian Observer)
Crackdown widens in Turkey
The crackdown on political opposition within Turkey is now extending to anti-war dissent. Nearly 200 people have been detained in Turkey for posting comments on social media critical of the offensive in Syria. Most were detained in raids coordinated by a cyber-security unit within the Interior Ministry. Many of those detained were released, but many others have been formally arrested and are facing criminal charges. These include Sezai Temelli and Pervin Buldan, co-presidents of the leftist and Kurdish-led People's Democratic Party (HDP). (Middle East Eye)
Erdogan's annexationist agenda
Amid all this, Turkish Defense Minister Hulusi Akar posted on his Facebook page a map showing the borders of Turkey expanded to encompass northern Syria as well as northern Iraq, all of Cyprus, much of Greece, and a portion of Bulgaria. The caption read (in Turkish and Arabic, and seemingly without intentional irony): "We have no eyes on anyone's land. We're just gonna get back what's ours." (Defence Point)
This is not the first time that Erdogan's regime has displayed openly annexationist ambitions.
Photo: UNHCR via Twitter