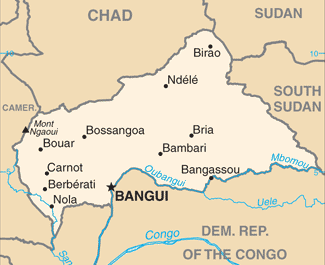 Amid rising tensions and insecurity in the Central African Republic, deposed former president François Bozizé has announced his candidacy for the upcoming presidential elections, scheduled for December. Bozizé is currently under UN sanctions and subject to an arrest warrant issued by the government for "crimes against humanity and incitement to genocide." Authorities show little sign of moving to execute the warrant; Bozizé announced his candidacy July 25 before a large crowd of supporters at a congress of his party, Kwa na Kwa (Work, Nothing But Work in the Sango language), in the capital Bangui.
Bozizé took power following a military coup during 2003, serving as president until he was overthrown in a 2013 armed movement by the mainly Muslim Séléka rebel alliance. Bozizé's overthrow plunged the country into a civil war, with widespread atrocities perpetrated by various armed groups. More than 1.2 million Central Africans have fled the country since 2013, and 2.6 million are still in need of humanitarian assistance.
Bozizé was in exile in Cameroon and other African countries from his ouster until his return to the country in December 2019, but was believed to be directing a new rebel movement within the CAR, known as the Anti-Balaka. Fighting only began to subside following a February 2019 peace agreement—after several previous ones had broken down.
Tensions have been escalating again since April, when lawmakers in the National Assembly introduced a bill that would have allowed current president, Faustin-Archange Touadéra, who came to power in 2016 elections following a period of transitional rule, to remain in office should the COVID-19 pandemic cause the postponement of elections. On June 5 the Constitutional Court ruled that the proposed amendment was unconstitutional.
CAR in the Great Game
The Central African Republic's early hopes for a peaceful and prosperous future were dealt a blow when national liberation hero Barthélémy Boganda was killed in a suspicious air crash shortly before independence from France in 1960. The subsequent period of misrule reached a nadir under Jean-Bédel Bokassa, who crowned himself "emperor" in 1976. Bozizé, then one of his top generals, was instrumental in the bloody repression of student protests that ultimately led to Bokassa being removed from power in 1979. His replacement, David Dacko, nonetheless named Bozizé as his defense minister. Bozizé alternated between this post and a period of exile amid coups and counter-coups over the following decades, before installing himself as president in his own coup in 2003—ousting the man who had brought him back into government,  Ange-Félix Patassé.
Once in power, Bozizé weakened the army by turning his presidential guard into the only real fighting force in the land—with the help of Libya, Chad and France. These first two countries abandoned him after undergoing changes of regime, and France finally dropped him as the situation in CAR began to escalate in early 2013. But South Africa stepped in to back him up, even sending troops to help fight the Séléka rebels.
The South African troops were called home after the Séléka alliance marched on Bangui in March 2013. France then sent troops back in, to back up the new transitional government that issued the warrant for Bozizé's arrest. French troops were replaced later that year with a UN peacekeeping force. (ReliefWeb, Al Jazeera, Mail & Guardian, South Africa)