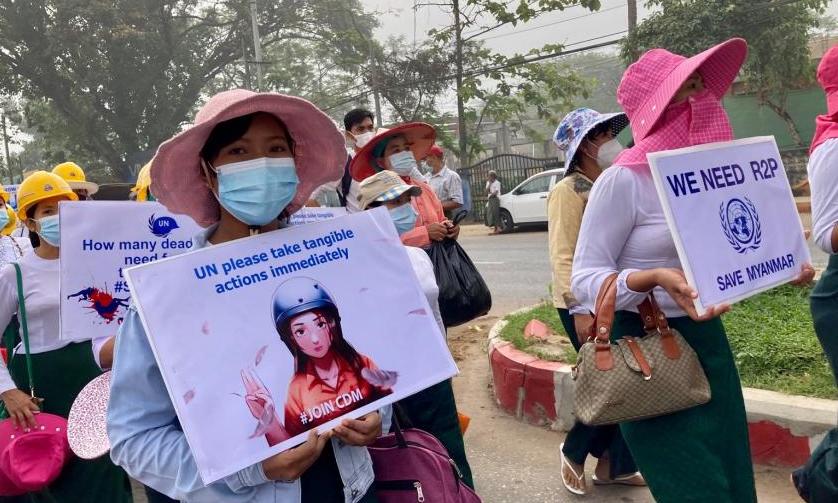 Up to 70 were killed across Burma on March 14 as security forces continue to fire on pro-democracy protesters, bringing the death toll since the Feb. 1 coup to well over 100. Most of the killings were in Yangon's outlying townships, where protesters have barricaded off streets in an attempt to secure territory. Martial law was declared in six of these townships, giving the military broad authority over those areas. Protesters have started using the hashtags #WeNeedR2P and #WeNeedR2PForMyanmar. In images seen from the air, protesters have arranged placards or lights from their mobile phones to spell out "WE NEED R2P." This is a reference to the "responsibility to protect" doctrine developed in the 1990s following the disastrous failures to prevent genocide in Bosnia and Rwanda.
Among the townships where martial law has been declared is Hlaing Tharyar, where days earlier Chinese-owned garment factories were set on fire by protesters. Beijing's embassy in Burma responded to the attacks by calling on authorities to protect Chinese industrial interests in the country. Nearly a million social-media users shared a post in Burmese and Chinese saying: "We totally condemn the Chinese Embassy's statement, only standing for its self-interest. China has been silent and failed to condemn the military regime, despite hundreds of people losing their lives during the peaceful protests."
The ruling military junta has announced it is cutting off public wifi access after stopping mobile data services, in an evident bid to stop videos and photos showing brutal police and military actions against protesters from flooding the internet. (Jurist, Scriberr News, The Irrawaddy, Myanmar Now)
The R2P doctrine has been invoked in recent years in Libya and, less successfuly, in Syria.
Photo: Myanmar Now