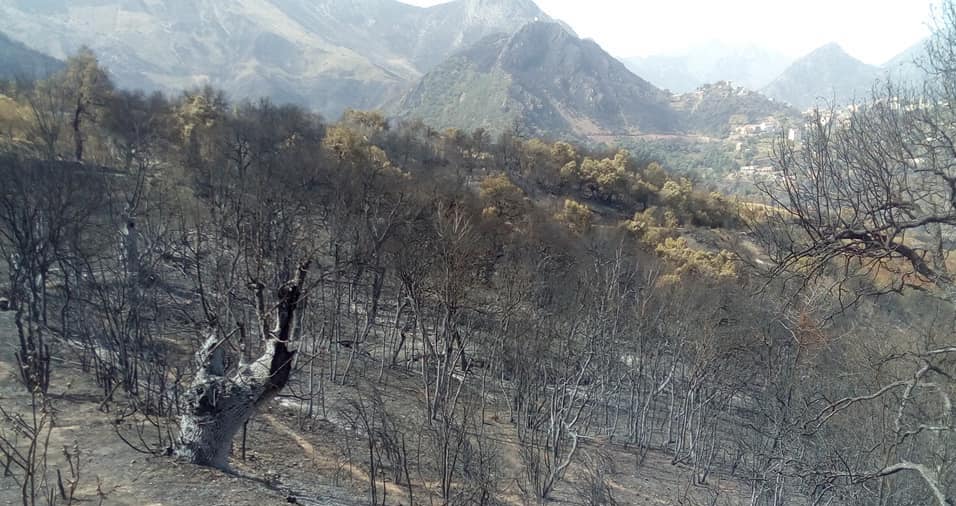 At least 90 people have been killed in wildfires that have swept through northern Algeria over the past weeks. The blazes have consumed some 100,000 acres, mostly in the northeastern Kabylia region and its central province of Tizi Ouzou. While remaining silent on the role of climate change, the Algerian government seems to be exploiting the disaster for political purposes. President Abdelmadjid Tebboune on Aug. 18 said most of the fires were "criminal" in origin, and blamed them on regional rival Morocco. The two countries were already in a diplomatic tiff before the new accusations. "The incessant hostile acts carried out by Morocco against Algeria have necessitated the review of relations between the two countries," the presidency said in a statement, adding that there will be an "intensification of security controls on the western borders." Algeria's western border with Morocco has already been sealed and heavily militarized since 1994.
Algeria's DGSN security agency has reportedly arrested 22 people for starting the blazes, saying investigations revealed the suspects were part of "a criminal network, classed as a terrorist organization." The presidency's statement named the Kabylia Self-Determination Movement (MAK), a civil organization seeking independence for the predominantly Berber region. (AFP, Al Jazeera, Al Jazeera)
Ironically, some 60 supposed MAK followers have also been arrested for lynching of a man who was accused of starting fires. Authorities said some of the suspects confessed to being members of the MAK. (AFP)
Last month, Algiers recalled its ambassador in Rabat for "consultations" in protest of a Moroccan statement in support of Berber self-determination. During a meeting of the Non-Aligned Movement in New York, Morocco's ambassador to the UN, Omar Hilale, distributed a note stating that "the valiant Kabyle people deserve, more than any other, to fully enjoy their right to self-determination." (Africa News)
There seems to be no shortage of cynicism on either side, as Rabat is clearly exploiting the Berber movement in Kabylia to retaliate for Algiers' support of the Sahrawi independence movement in Morocco-occupied Western Sahara.
Photo via Twitter