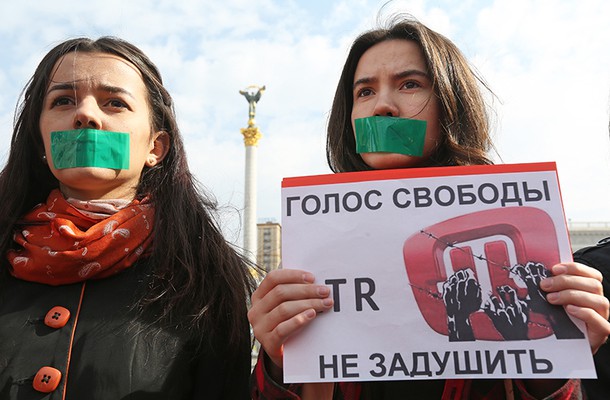 The only Crimean Tatar TV channel is facing a new threat to its existence—this time not from the Russian occupiers of Crimea, but the Ukrainian authorities. A dramatic cut in state funding for ATR TV has coincided with Kiev's decision to drop Tatar-language services on the state network UATV in favor of a new Russian-language channel to be broadcast into rebel-held territory in Ukraine's heavily Russophone east. ATR deputy director Ayder Muzhdabaev reported Jan. 17 that the station has reduced production of its own programming by 90% due to underfunding. He said that of the 35 million hryvnia allocated to the station in Ukraine's 2019 budget, only 15 million had actually been received.
Muzhdabaev added that the station's debts forced it to turn off its satellite signal this month—the only means of actually reaching the Crimean Peninsula. They have been able to restart it thanks to emergency help from the Chief Rabbi of Ukraine, Yaakov Dov Bleich, and the Minister of Culture, Volodymyr Borodyansky.
The Chief Rabbi has long spoken out in defense of the Crimean Tatars facing persecution in occupied Crimea. In May 2016, during a remembrance event in Kiev for the victims of the mass deportation of the entire Crimean Tatar people in 1944, the Chief Rabbi called on the world to not ignore the suffering of the Crimean Tatars the one it once had ignored the suffering of the Jews.
In a Jan. 17 interview, ATR general director Lenur Islyamov confirmed that the station was on the brink of closure, with staff reduced by 45%, a reduction in news broadcasts, and suspension of live broadcasts.
At the moment, Islyamov said, the station does not have a license for digital TV in mainland Ukraine, which would at least mean that it could earn money through advertising. He said the station has repeatedly taken part in competitions for licenses, but was not chosen—not even in the Kherson Oblast, near the militarized border with Crimea.
"They don't understand priorities," Islyamov said. "After all, if we can't overcome the enemy through weapons, we must counter their aggression through information. Yet we are not finding understanding from them in this."
ATR was forced off air in occupied Crimea in March 2015 after Russia refused to re-register the only Crimean Tatar channel in the world, along with several other Crimean Tatar media. A few months later, both ATR and the children's channel Lale began broadcasting from Kiev, though it was available to people in Crimea only via satellite television. (Kharkiv Human Rights Protection Group, Jan. 23)