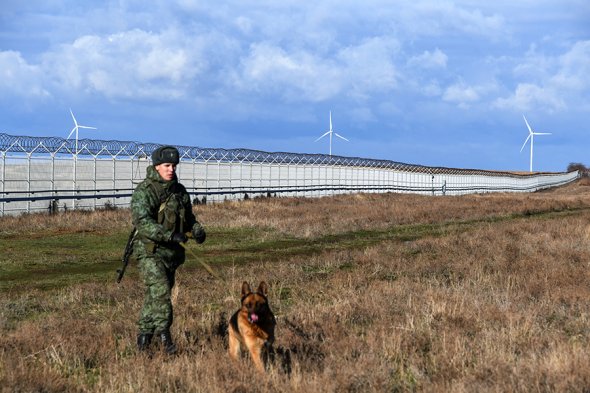 Russia this week completed a high-tech security fence along annexed Crimea's border with mainland Ukraine. The fence, more than 60 kilometers long, is topped with barbed wire and equipped with hundreds of sensors.  Russia's FSB security agency in a statement called the fence a "boundary of engineering structures," and said it is necessary to prevent "infiltration attempts by saboteurs," also citing traffic in drugs, arms and other contraband. The statement boasted of "the most complicated system of alarm sensors in the Isthmus of Perekop," the stretch of land where annexed Crimea borders the Ukrainian mainland.
Russia also made additions to the newly-completed Crimea bridge over the Kerch Strait at the other end of the peninsula, separating annexed Crimea from Russia proper. The new structures, which narrow the passage, were described as special navigation equipment to "secure boat traffic."
Since the seizure of Crimea, Russia has beefed up its military presence on the peninsula, already home to the main base of Moscow's Black Sea Fleet. This week, Moscow moved more than a dozen fighter jets to Crimea.
Ukraine has also erected border fences to contain the pro-Russian insurgency in the country's east. New fences have been built in the Chernihiv and Kharkiv regions, bordering Russia. Ukraine also has completed a new fence in Kherson region, near Crimea.
France and Germany issued a joint statement condemning Russia's Crimea fence, and the recent "illegal interference in maritime navigation" in the Sea of Azov, the arm of the Black Sea north of the peninsula. (EuroNews, BBC News, CrimeRussia, RFE/RL, Dec. 28)
Donald Trump meanwhile seemed to legitimize Russia's claim to Crimea. After last month's brief skirmish between Russian and Ukrainian forces in the Kerch Strait, Trump tweeted: "Based on the fact that the [Ukrainian] ships and sailors have not been returned to Ukraine from Russia, I have decided it would be best for all parties concerned to cancel my previously scheduled meeting" with Russian President Vladimir Putin in Argentina.
Russian senator Konstantin Kosachev, head of the Federation Council Committee on International Affairs, was heartened by the tweet, saying: "But, considering that the ships are in Kerch, that is, in Crimea, which Ukraine, the United States and its allies still deem as Ukrainian, then Trump's statement that the ships are staying in Russia and have not been returned to Ukraine is nothing else but a long-awaited recognition of Crimea as Russian territory! And this is an alarming signal for Kiev rather than for Moscow." (TASS, Nov. 30)
Photo via РИА Новости