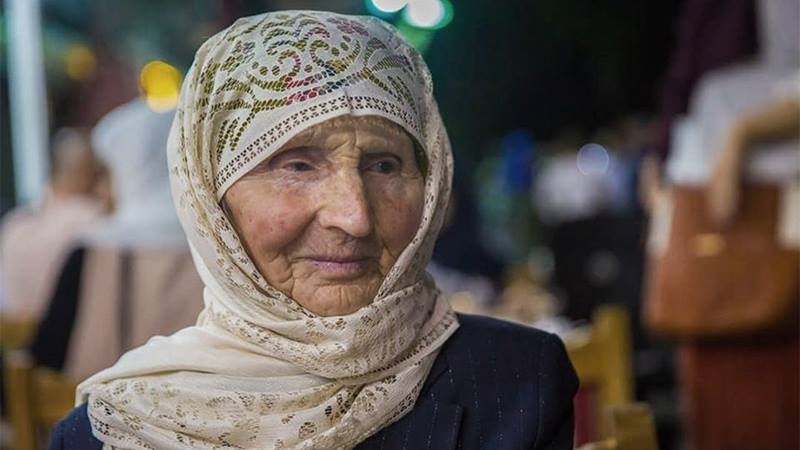 Four years after Russia's annexation of Crimea, repression is mounting against the peninsula's Tatar people—whose autonomous powers, officially recognized under Ukrainian rule, have been unilaterally revoked. The group Human Rights in Ukraine is demanding that Russian authorities provide details on the death at the hands of Russian agents of Vedzhie Kashka, an 83-year-old veteran of the Crimean Tatar national movement, last November. On Nov. 23, 2017, a team of Russian National Guard troops with OMON and FSB secret police officers carried out raids in which five Tatar leaders were briefly detained while their homes were searched. Kashka was among those targeted, and died during the operation. An initial report said Kashka had died of coronary artery disease, but an investigation carried out months later after her family had contracted a lawyer revealed that she had suffered several broken ribs. Authorities are still not providing an explanation.
Kashka was a survivor of Stalin's 1944 deportation of the Crimean Tatars to Uzbekistan. She had been agitating for greater political rights for the Tatar people since they were allowed to return to Crimea under Khrushchev in 1954. (Crimean News Agency, Nov. 24)
According to a report by the Crimean Tatar Resource Center, during the first half of 2018 Russian authorities carried out 66 illegal raids on homes, 89 interrogations and 98 arrests in occupied Crimea. (UkrinForm, July 19)
In a particularly gruesome incident Aug. 3 in Simferopol, a Tatar demonstrator doused himself with gasoline, set himself on fire and attempted to self-immolate at a protest over an urban redevelopment plan announced for the city that would entail demolishing several Tatar homes. Felllow demonstrators extinguished the flames before he suffered fatal burns. (Kyiv Post, 112.UA, Kiev, RFE/RL, Aug. 3
Some in Moscow are even calling for the "de-Turkification" of Crimea by changing the name of the peninsula and its major cities back to those used by the ancient Greeks, eliminating Tatar names from the toponymy. For example, Crimea would become Taurida and Sevastopol would become Sevastoupoli. (TRT World, Aug. 2)
On Aug. 9, International Day of the World's Indigenous Peoples, the Crimean Tatar Resource Center issued a statement accusing Russia of violating its responsibilities under the UN Declaration on the Rights of Indigenous Peoples.
Following a Russian-backed coup in Feburary 2014, Moscow illegally annexed Crimea, legitimizing the move with a local referedum declared invald by the United Nations. The Tatars' autinomous governance body, the Majlis, was formally dissolved and suppressed by Russian authorities in April 2016, and several of its leaders arrested and mprisoned following "Soviet-style" show trials. Amnesty International accuses Russia of "systematic persecution" of the Crimean Tatars. The pressure has caused up to 1,000 Tatars to flee the peninsula, leading to charges of "ethnic cleansing."
Photo: Crimean News Agency