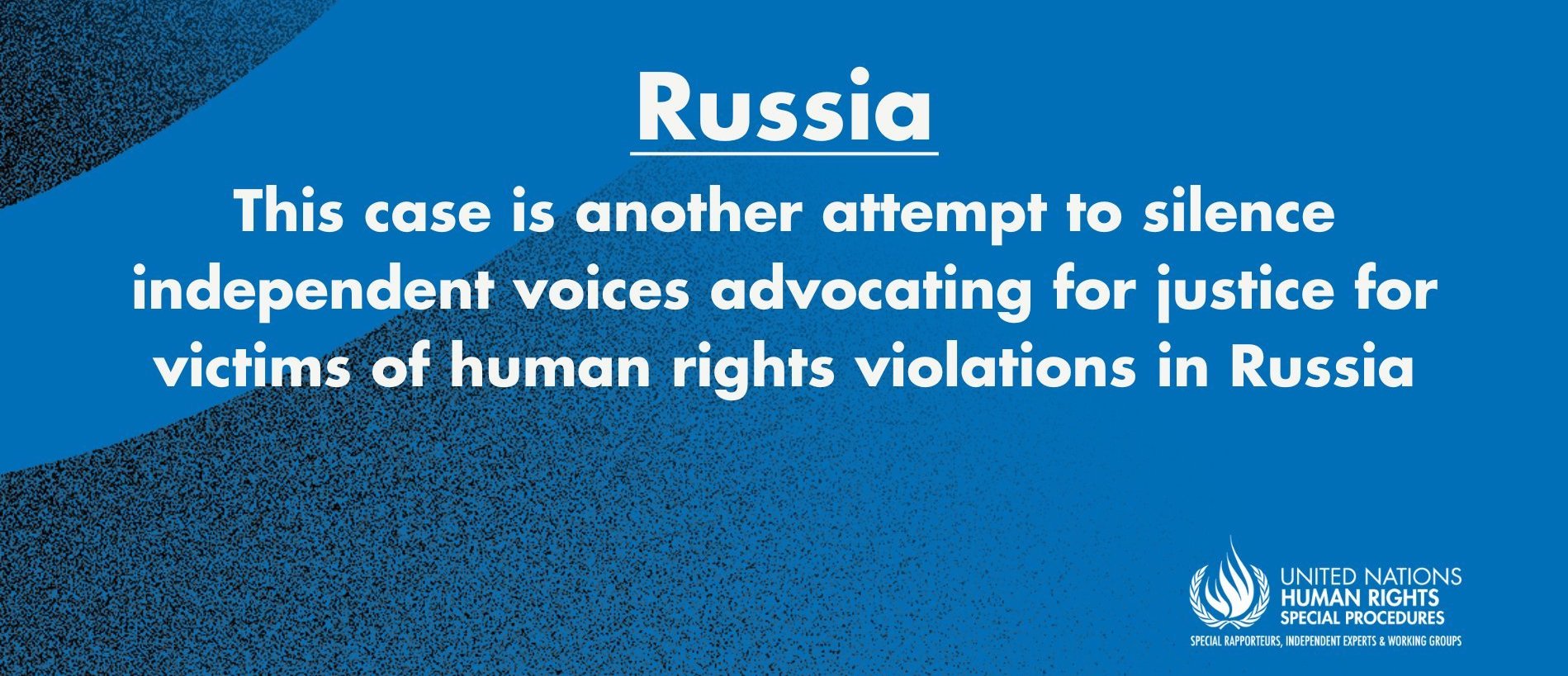 A group of United Nations human rights experts called on the Russian Federation July 7 to investigate a violent attack against journalist Yelena Milashina and human rights lawyer Alexander Nemov, and bring to justice the perpetrators. The incident occurred on July 4 in the Russian Republic of Chechnya. Milashina was covering, and Nemov participating in, the trial of Zarema Musaeva, the mother of exiled opposition activists who challenged the leader of the Chechen Republic, Ramzan Kadyrov.
Milashina, who works for the independent investigative news service Novaya Gazeta, and Nemov were attacked by a group of masked assailants who beat them with clubs and kicked them, taking their phones, smashing their equipment, and destroying their documents. During the attack, the perpetrators shouted at the pair to leave Chechnya, and not report anything. The two suffered severe injuries and were hospitalized in Grozny, the Chechen capital. Milashina was diagnosed with a head injury and also had fingers broken and much of her body bruised. In addition, Milashina's head was shaved by the attackers and doused with brilliant green dye, which is a form of humiliation against women in the North Caucasus.
UN human rights experts condemned the attack as an example of disregard for the safety of journalists and human rights activists in the Russian Federation, and particularly in Chechnya. Milashina's investigative work follows in the footsteps of two other journalists, Anna Politkovskaya and Natalia Estemirova, who were murdered in Chechnya in 2006 and 2009, respectively, evidently to silence their investigative work.
The experts expressed concern about the ongoing threats to the lives and well-being of Milashina and Nemov due to their work. They called on Russia to end the current climate of impunity and ensure a safe environment for journalists and human rights activists and lawyers, in line with its international obligations and commitments.
From Jurist, July 9. Used with permission.
Note: In 2014, five Chechen gunmen were convicted in the killing of Anna Politkovskaya, who had uncovered use of torture by the security forces in Chechnya. But rights advocates say a limited investigation protected figures in officialdom. (BBC News)
There have been no convictions in the murder of Natalia Estemirova, who had been the foremost human rights advocate in Chechnya. In August 2021, the European Court of Human Rights ruled that Russian authorities have failed to properly investigate the murder of Estemirova. (Amnesty International)
Milashina is known for breaking the story of the "anti-gay purges" in Kadyrov's Chechnya in 2017, which sparked international outcry. (Moscow Times)
Image: OHCHR via Twitter